No, this isn't the "7 Things" meme. It's just that seven is all the things I could think of at the moment.
1. I'm still knitting the same stuff. No new pictures. It just mostly looks the same. I'm not bored with it, but you might be if I posted photos that looked the same as last time.
2. It's just still fracking raining here. Rain rain rain rain. It's all we've had all week. I'm starting to get moss on my north side (or is it the south side that it grows on?).
3. I just discovered NetNewsWire. I have used Bloglines as my blog aggregator for a long time, but it's gotten really twitchy recently. If you have a Mac, try it out. It's very cool. NNW, you heard it here. I'm probably the last Mac blogger on earth to find this one.
4. Google searches, redux. I just have to laugh that somebody got to my blog this week by typing "Aunti Debi" into Google. Now, really. If you were a person looking for your Aunti Debi, would you type "Aunti Debi" into Google?? Really? Hon, I'm pretty sure she's not here.
5. Ravelry rocks. It's a big-ass time-sucker, but it rocks. I've found lots more projects that I need to knit than I'll have time for in any lifespan allotted to me.
6. I finally gave up trying to keep up, and hit "mark all read" in both NNW and Bloglines.
7. We had to have another tree taken out of our yard. This one was a Garry Oak, and it was huge. Unfortunately it had started to split right at the fork between the two main branches. We decided to take it out before it took out part of the rest of the yard.
The problem: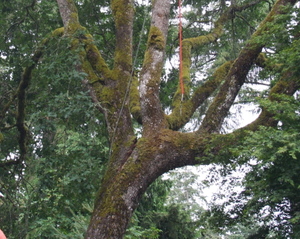 Click on the photo to see.
They had to get a crane in to handle this one.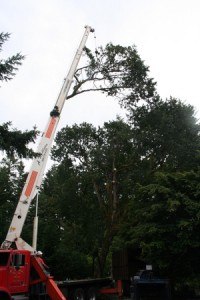 And now it's just a bunch of firewood. Very wet firewood.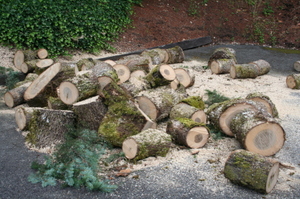 Excuse me. I'm going to look for the lifejackets.