Before I get to the knitting, let me show you one of the things I cooked this week. I love fall for cooking, all the turnips and beets, and pumpkins! They're not just for jack-o-lanterns anymore! I've had a couple of small sugar pumpkins in the pantry, waiting for the right moment (get the pie pumpkins, not the field pumpkins grown for gigantic size). We made pumpkin curry with it. Here's the details and photos. This isn't a recipe as such, but if you know how to put together a stew, you can figure this one out.
First, whack up the pumpkin, the hardest part. I generally get it cut up into big sections, then about two-inch squares, then cut the rind off. It's pretty hard to peel the thing whole. I keep the pieces rather large, since they tend to melt into the curry when fully cooked.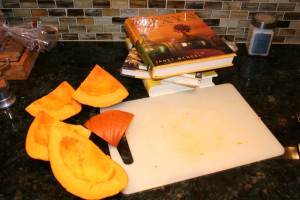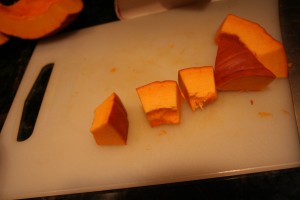 Once you get that part done, you're home free. Slice some onions and garlic, and saute, then add your curry blend.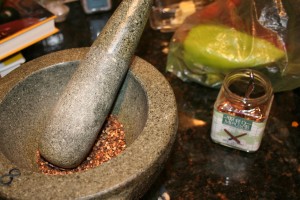 I think I've mentioned this before, but I buy curry spices whole and grind them. I've made my own blends before, but now I just buy them locally here. They'll ship, too. This particular blend was the Sri Lankan curry blend. I don't think we've ever tried this before, and it was very good. Here's everything cut up and ready to go. This process makes all the world of difference in a dish with lots of parts. If you get everything chopped before you start cooking, it's a piece of cake. Mise en place, the French call it.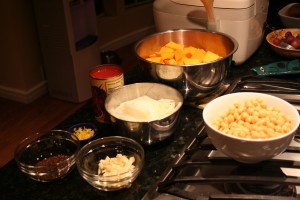 After I added the spices, I tossed in some chicken stock, a bit of white wine, part of a can of chopped tomatoes, 2 cans of garbanzo beans (rinsed), and the pumpkin, then cooked it till the pumpkin was done. This really doesn't take long, and if it's overcooked it turns to mush, so watch it. At the end, I threw in a bunch of baby spinach we had lingering around. Oh, I also added one chopped hot pepper in at the same time as the garlic, it was a yellow pepper that looked like a serrano and had some heat. And salt to taste.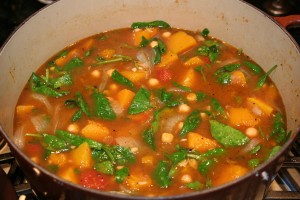 Serve over rice, and dinner is ready.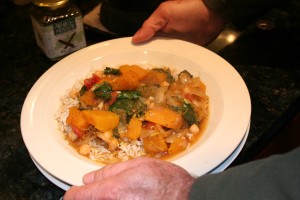 On the knitting front, I have 8 repeats of that True Blood Faery band done. I thought I had royally screwed up my gauge, but it turns out I was wrong. The bottom cable chart is 40 rows, and the pattern calls for knitting 20 repeats of chart A. I finished what I thought were 4 repeats, meaning 160 rows, measured, and was horrified to find that the piece was twice as long as it was supposed to be. After I calmed down, I searched Ravelry, read the pattern (now there's a novel thought), and discovered that each chart repeat is two pattern repeats. It measures out perfectly. Whew.