AKA, I actually finished something.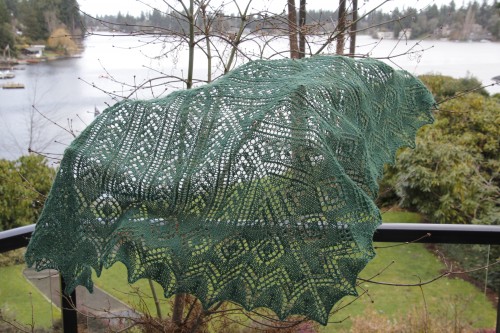 Project Details:
Pattern: Alexandra, by Dee O'Keefe
Yarn: My own handspun. The fiber is merino/silk/firestar, Abby's Batts. There was about 600 yards of it, I still have a bit left.
Needles: 3.25mm Chiaogoo Lace circulars
Started: January 5 this year
Finished: February 17 this year
For: Me!
What I Learned: My handspun isn't bad to knit with! This was spun back in 2009, and I wasn't a very experienced spinner. It is mostly fingering weight, and there were only a few places where I had to splice out a bit that was too weird to knit with. It blocked nicely.
I also learned that it needn't take me 4 years to finish something. This is likely the only thing I'll finish during the Olympics, but I still have hopes that one day I'll finish Evenstar. Here's what it looks like today. As usual, click on the photos to embiggen.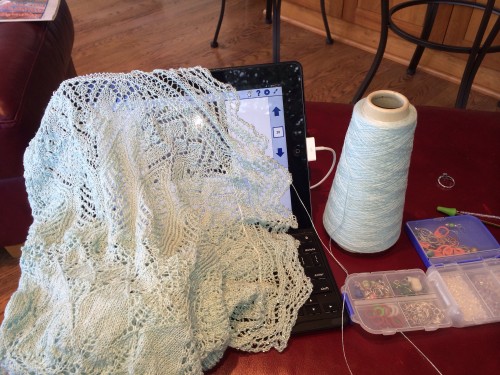 For those of you keeping track, I started this in 2010. It's a huge circular shawl, with an attached knitted on border (knitted perpendicularly to the main shawl body). I have 34 repeats left. Each repeat is 20 rows and has 50 beads knitted in. The edging is dead simple, but of course I have to pay attention because of the beads.
In other news, I fell off that no-shopping sheep this past weekend. I sort of knew it would happen. There was a big fiber festival in town (Madrona). My friend Dorothy came to visit and we took a couple of classes, which were fabulous. We also shopped. I probably would have held out if it weren't for the Toots LeBlanc booth. They had some of their lovely lace weight jacob/alpaca/mohair blend, which can be hard to find. And it was HALF OFF people. Tell me you wouldn't have done the same. There might have been a few other things that fell off the shelf and landed in my shopping bag. Then I slipped and on the way to the floor, my credit card went through the card reader. It was totally an accident. I'm not taking photos of any of it to show you.
So now we're back to square one. It's now THREE days since I last bought yarn. I made it to 125 days last time. Let's see how long I hold out this time.