I am apparently on a finishing roll. Here is Shedir, finished yesterday.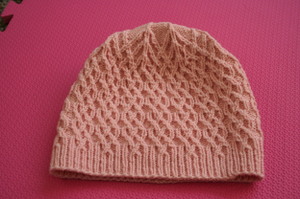 Here's how much of the partial ball of Calmer I had left. So this hat took 1 full ball of the Calmer, plus 9.2 grams of the second ball. Further notes on yarn usage are in the Project Specs below.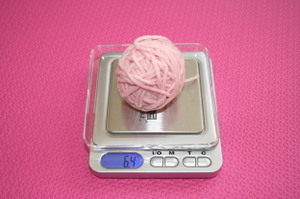 And an action shot. Sorry, you don't get to see my face. I'm still in my jammies and pre-shower here. This hat does a great job of covering up bedhead, by the way.
Project Specs:
Pattern: Shedir, from the special Knitty breast cancer awareness issue.
Yarn: Rowan Calmer in Flamingo, left over from my Audrey sweater.
Needles: 3.25mm needles, I used a bamboo 16 inch circular (this brand) for most of it, and Ivore double points once I got to the decreased part of the top.
Started: Version 2 was started on March 18th. I really started it about a week before that, but had to rip it all out due to a cable misadventure.
Finished: April 13th.
For: ?? This one's going to Rebekah for her charity chemo hat collection.
What I learned: I'm pretty much done with knitting with Calmer. It's great for chemo hats, as it's very stretchy and soft. But it splits like crazy, and if you drop a stitch, forget about it. The sproinginess of the yarn makes it just disappear down the line of knitting. This pattern, however, is pure joy. Jenna Wilson, the designer, also did Rogue, and she is a genius with cable design. I learned a lot about how cables are built while doing this one.
On the running-out-of-yarn thing. The pattern calls for one ball of Calmer, and I didn't quite make it with one. However, to be fair, Jenna says right in the pattern instructions that one ball cut it pretty close for her. I also didn't bother with measuring gauge, and it's entirely possible that knitting these on a smaller needle would have made a difference for me. I just went with the size needle that the pattern called for, in a let-the-force-be-with-you way.
This is also a very deep hat measured from brim to tip, a good thing if you have no hair and want to cover everything up. If you are making this just for fashionable wearing, you could make it shorter and get it out of one ball of yarn. That central section of cabling is a 8-row pattern, repeated 5 times. You could leave out one, or even two, repeats, and have a plenty big hat.
—————————————————————————————–
What's next? I dragged this sleeve out of project oblivion and started working on it. I really need to finish this sweater. It's the Laurel Hill sweater from one of the Jo Sharp pattern collections, and the yarn is Jo Sharp DK wool. This yarn is just lovely to work with. I have the front and back pieces done, and am partway through the first sleeve. I had to do a little bit of math contortions to rework the sleeve increases, which I might explain in a future post. Here's where I am. The pins are to keep track of sleeve increases. I'm increasing on each side 25 times, so I put the string of 25 pins on the sleeve, and take one off to mark the increase row each time I complete it. And yes, I still use a cable needle. I have an unreasonable love of double points and cable needles.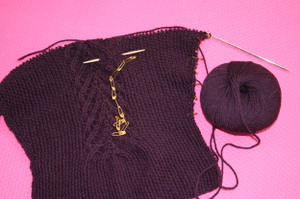 Last, but certainly not least, is an action shot of the Wallaby sweater and baby Riley. I had her momma take photos now to show how tiny she is in comparison with the sweater. This is the smallest size in the pattern, and is more small toddler size.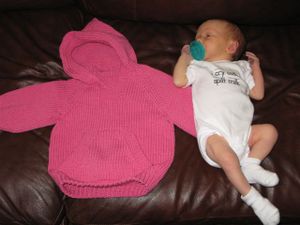 This photo just cracks me up.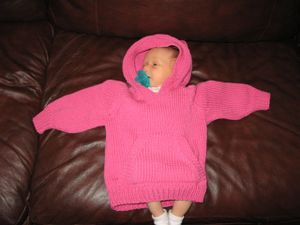 And a close up to show just how pretty she is. I'm pretty convinced she's going to be a redhead, like her grandma, my sister.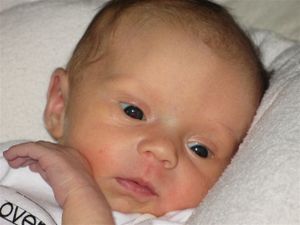 Don't forget, today is World Grits Day! Kris is asking us to show our Grits and Sticks photos. We're having our grits for dinner tonight, so my photo will be up tomorrow!