This time we're off on a two-week vacation to Ireland. We leave tomorrow morning, so I'm frantically going through all the knitting bags to get stuff sorted out. Of course I have nothing else packed, but damn, I have the knitting ready. Here's what I'm taking with me. This will also serve as sort of a mini-Project Update as well. Cool! Two posts in one!
First, here's the spinning portion of the blog. If you don't give a hoot about spinning, scroll down. I finished some pretty pretty yarn this week. A few months back, I scored a couple of Abby's Batts. Here's one of them all spun up. As usual, click to embiggen.
The fiber is 69% merino, 30% tussah silk, and 1% firestar (aka sparkle!). This is roughly a light fingering, and there's about 600 yards of it, enough to make a pretty shawl. That's not coming to Ireland with me, though. The color name is Green Green Grass.
I'm still working on John's True Blue sweater, and am partly through the first sleeve. The front and back are both done. This will come with me on the trip. I transferred it from straight needles to circulars, to make stuffing it into a travel bag a little easier.
And I'm still working on the Peony socks. These will go in checked luggage, because of those wicked sharp Signature double points. I'm not crazy enough to try to get those on a plane.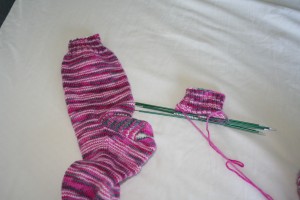 Last but not least, some green yarn for another pair of socks, just in case I finish the Peony socks. This is one of my treasured Wollmeise skeins, in the color Lowenzahn.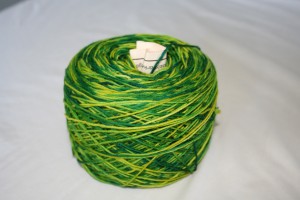 And I have a suspicion that I might find some yarn while I'm there. At least I can hope. If not, I'll drink lots of Guinness to drown my sorrows. We leave in the morning, and will have a mini-computer with us, so there might be an update or two along the way. Otherwise, I'll see you in a couple of weeks!