I have to say, it's good to be home. Even with work, and chores, and no rum drinks, it's always nice to get back home. Hawaii was lovely, but so is where I live.
I'm madly trying to finish up a few things before the Ravellenic games begin, coinciding with the start of the Winter Olympics. I almost decided not to participate this year. The original 2014 Ravelry group for the knitting version of the Olympics blew up rather spectacularly in mid January. It always amazes me how a bunch of apparently intelligent adults can act like such spoiled middle schoolers. Admittedly I didn't read the whole gazillion-pages-long drama, but I can't imagine people acting like this in real life.
Anyway, I'm pretty much going to be knitting WIPs during the Olympics. I want to try to get as much of that Evenstar border done as possible, and as a reward, I might just cast on something new. We'll see. I have Color Affection in my sights for the next big thing.
And a dilemma. I have yarn in two separate color combos that I bought for this pattern.  Here they are:

That's option 1. It's Swan's Island Merino. Cream, Oatmeal, and Garnet.
Here's Option 2:

Those three are Verdant Gryphon Eidos sock yarn. Jade Emperor, Medusa, and Wen Chang.
Decisions, decisions. I'll do both eventually, but which first? Any votes?
In other news, I'm working away at my newest shawl. Never mind that I should be working away at one of my ancient WIPS. I'm all about new and shiny.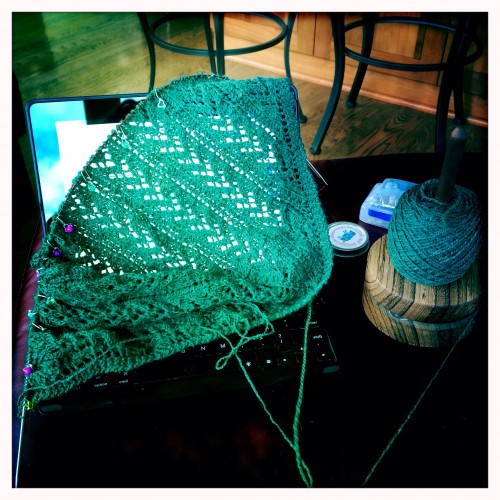 I figure I'm about 40% done with this. I'm hoping to have this finished by the time the Olympics start. A nice long football game tomorrow might help.*
Last but definitely not least, I'm still on that Cold Sheep plan. 112 days without yarn buying. I got a lovely email out of the blue from the Three Irish Girls yarn people. I used to be in her sock yarn club, but quit after awhile when it was apparent that her plan of sending me yarn for a new pair of socks every month didn't match up with my plan of knitting two pairs of socks a year.
Anyway, I followed the links to her website. Pretty! New colors that I don't have! Wow!
Then it occurred to me that I probably still have some Three Irish Girls club sock yarn in the stash. Here is a screenshot of that page in the Bento Database That Never Lies. Click to get your Three Irish Girls fix.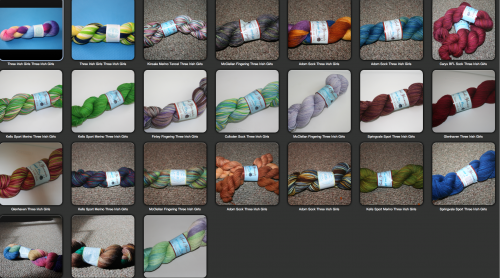 Enough Three Irish Girls yarn for 23 pairs of socks, as well as over a thousand yarns of that pretty wine colored stuff in the upper right, destined for a shawl.
Whew. That was close.
*Go 'Hawks!