Or,
Hawai'i!
And that pretty much says it, right? I only have crummy phone photos for you, and not many of those. Yes, I brought the "real" camera, and yes, I've taken lots of "real" photos. I just forgot to bring that little extra piece that lets me upload photos from the camera to the iPad. So you get a few phone photos instead.
We're on the Big Island, which I've never been to before. I think it might be my favorite of all the islands. We're staying "upcountry" on the hillside overlooking Kailua-Kona, with a terrific view of the bay, well out of the traffic of the main town. The cottage that we're in is part of a small coffee farm, and we have noisy chickens and tweety birds instead of city sounds. We don't have air conditioning, but it's been quite pleasant without it. We have wall to wall sliding glass doors along the ocean side, and it's been nice enough to sleep with the doors open at night, and it's been cool enough that we've needed blankets. And wool socks at night.
Here are a few photos.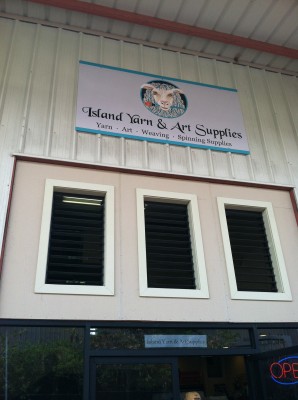 Yes, I found a yarn shop. I only bought one thing. The shop had a surprisingly large inventory, with a great selection, but my vacation yarn buying goal is to try to buy stuff I can't get at home. Here's what I found.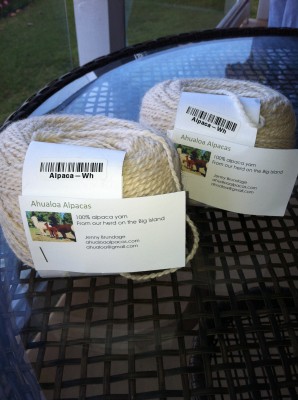 It's from local alpacas, hand spun, natural colored. There are 400 yards of it, I might try dyeing it with some of my natural dye stuff that I have at home.
Being upcountry in the tropics, you might guess that there is a bit of wild life here. Our hosts warned us about mongoose, and the rare wild boar that wanders in. Last night's fauna was a gecko that we found in one of the kitchen cabinets.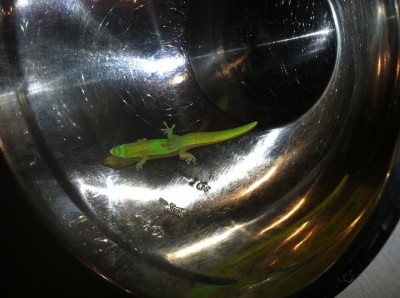 Last but not least, a Finished Project! This was one of my January goals.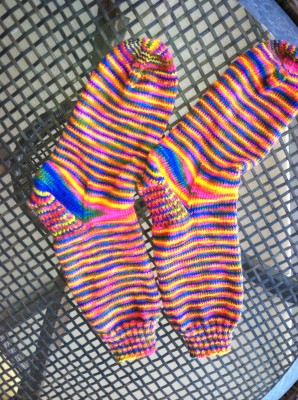 I'm not going to do a whole Project Details thing with these. The yarn is Frolicking Feet, from Done Roving. The color is Pot o' Gold. I used size 0 Pony Pearl double points.
I've already started another pair but that's for a different post. Blogging from the road on an iPad sounds lovely, but the WordPress dashboard interface with the iPad browser is less than ideal. That's it for today, we're off on another adventure!