…Bought The T-Shirt!
The theme this year was the changing face of bluegrass, and as such, included a few artists that stretched the definition a bit. Some of it didn't work for me, most did, as usual.  I'll listen to it all, though my favorite is still traditional Appalachian style old-timey music. There wasn't much of that this year. Uncle Earl was as close as it got, and they were every bit as good as they were last year.
Other favorites? Crooked Still, with a great lead singer and a cello player (yes, cello!) that will knock your socks off. All the girls seem to like him, too. There was a lot of girly screaming every time he played a solo.  Blue Highway, playing more straight-up bluegrass, and with one of the best dobro guys around, Rob Ickes. John Cowan, Darrell Scott, and Pat Flynn, each a great musician, and together they were dynamite. Cowan's voice will send chills up your spine. The Infamous Stringdusters are a great bluegrass jam band. Mike Dowling is a wonderful acoustic roots-blues guitarist, and was one of my favorites of the festival. Doyle Lawson and his band were polished, as usual.
My personal favorite? This one was a surprise to me. Mike Marshall has never been one of my favorite performers. He plays mandolin, and is one of the best in the business, but his music tends to run a bit experimental for my taste. This time out, he performed with Hamilton de Holanda, a Brazilian bandolim virtuoso. Their music is astounding. I don't buy many albums any more, as I can listen to pretty much anything I want on Rhapsody, but these two were good enough to warrant buying the CD. Mike also did a solo performance on Sunday of Bach's Chaconne (yes, Bach on a mandolin) that was terrific.
The festival also provided many hours of uninterrupted knitting time. I saw a couple of other knitters there this year, including Leah, who is knitting Rogue. She was also knitting it in a dark purply yarn, in near dark. I was having trouble just managing socks in stockinette. I didn't take any photos at the festival; after I lost my binoculars a couple of years ago at Wintergrass, I try not to take anything that might tempt another thief. (You'd think bluegrass fans wouldn't be pickpockets, but there you have it.)
And the socks, you ask? How much sock can I knit over a four day festival? (Actually, two evenings, Saturday afternoon and evening, and all day Sunday.) I started on Thursday evening just past the gusset on the first sock. Here's where I finished Sunday night.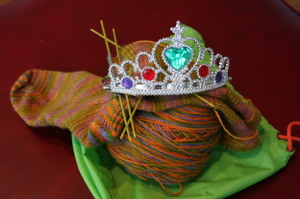 Can't tell from that photo? Here's another: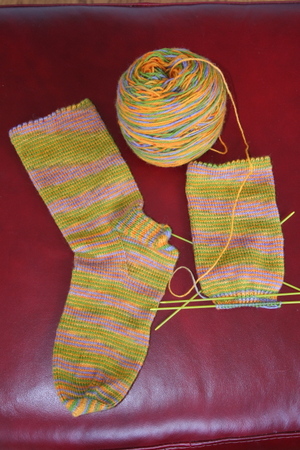 I also have been working on the mystery baby project, using some of my closely guarded Cotton Ease stash. I still can't show a real picture, or it wouldn't be much of a surprise, now, would it. Here's a hint: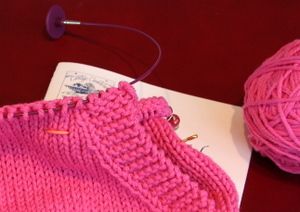 By the way, Cotton Ease is back on the market, with newer, better colors. Once I use up the stash I have, I might just have to buy more. (Who am I kidding, I probably won't wait that long!)
And just to tempt your taste buds, here's the bread I made earlier this week.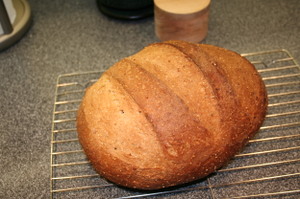 It's white-bread, but with cooked brown rice, polenta, and enough wheat bran to give it a nice chewy texture. It's already gone, so I need to go make more. I make my bread in the bread machine, but generally bake it in the oven. I've finally gotten to the point where I don't need much of a recipe; I just start with the right proportions of flour and water, then add the other ingredients according to whim. Yum, now I'm hungry.
Oh, and in case you can't find it, here's a link to Wintergrass. Yes, I already have my tickets for next year. Did you really need to ask?