As you all can probably guess, I struggle mightily with the stash acquisition thing. I have bins and bins of yarn around here, as well as a couple of bins of fiber that can be spun into more yarn. Yet I found myself yesterday online, window shopping for more yarn. "Ooooohhh, Shiny!!"
Something made me close the browser window and step away from the computer. I keep talking about knitting from stash, but I never actually get around to doing it. So I decided to rummage around in the bins of yarn I already have. I decided on a novel approach, just pull out one box and see what's in there. It's sort of an archive of my yarn shopping for the past decade or so.
I decided to start with Box #1*. The numbered boxes are somewhat chronological, though not entirely, since I've reorganized the whole mess once or twice over the years. Here we go: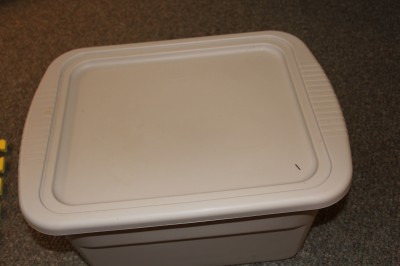 Want to see what's in it?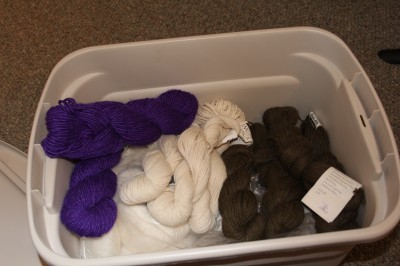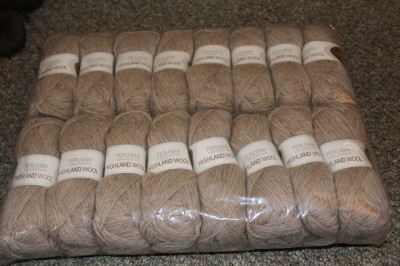 That's a sweater's worth of nice oatmeal colored wool from Elann. John looked at that and called "mine". I think he needs a Mr. Rogers cardigan, don't you?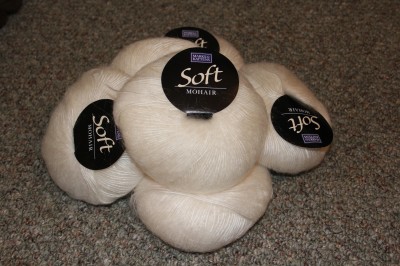 That's a shawl's worth of a really pretty lace mohair/viscose blend. There's enough there for a Wing 'o the Moth Shawl.
Next up is two colors of Inca Alpaca. There are 4 hanks of the brown, and 3 of the cream. I'm thinking scarves. They both would go with my winter coat.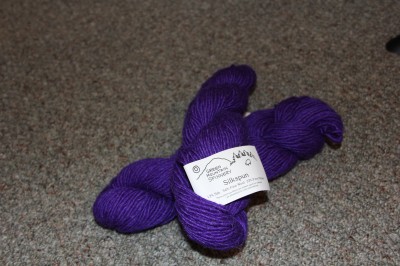 Then there is enough of this Green Mountain Spinnery Silkspun for mittens. Bright purple mittens for me!
Last but not least, one lonely skein of something: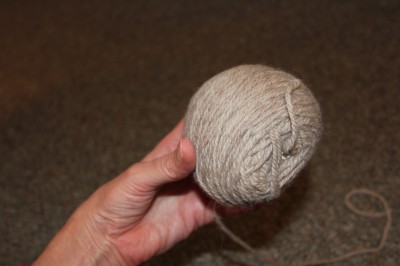 I think that's a skein of that same oatmeal, but likely from a different dye lot. I actually did a swatch with this, but I think there is enough left for another pair of mitts.
So there you go, a blast from the past. I'm almost up to finishing something already on the needles, then I'm going to start one of these projects next. Let's see how much of this box I can get through before I cave and buy more yarn!
*To put that in perspective, there are 20 numbered boxes in my closet. That doesn't include the box of enough crayon colored Cotton Ease for several sweaters. And a miscellaneous box of Dale Baby Ull and Euroflax in a variety of colors. I clearly do not need more yarn, I just need to go shopping at home.