Well this has been one of those days. I had a few hanks of yarn that have somehow appeared around here in the past few months, and they needed to be put into storage.
I have told you about my fabulous overly obsessive-compulsive yarn database, haven't I? I'm sure I have. Here's what it looks like on my iPad.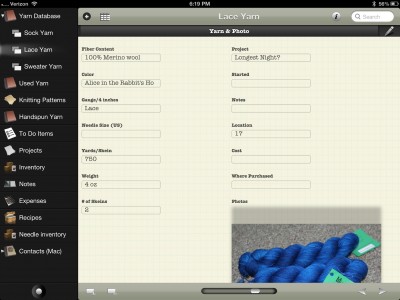 Glorious, eh? I have a billions skeins of yarn categorized in a sortable database so I can search by yarn name, fiber type, number of yards, and most importantly, know exactly which numbered box it is in.
So anyway, after I got my little new skeins all happily stored away, I ended up spending the rest of the afternoon cleaning up the whole thing, adding a few new database fields, deleting some yarns that have been used or given away, etc.
Every time I put new yarn into the storage warehouse, I'm reminded of the warehouse scene at the end of Raiders Of The Lost Ark. You know the one.
That's all for today. After all that sorting, I need a martini.