We've decided to stimulate the economy in a rather spectacular fashion this spring. A kitchen remodel has been in our long-range plan for the house since we moved in here. It got sidetracked a bit when we had to rebuild one whole side of our house in 2006, but it was on the schedule for this year, economy be damned. Those ugly grey plastic kitchen cabinets have been on my hit list since I first saw this place.
Our kitchen appliances started to bite the dust last fall, and when we had to replace the gas cooktop ahead of schedule due to the death of the old one, the new one required a little chainsaw action so it would fit in to the center island. This left a gaping hole in the middle of the island. Then the old refrigerator died, and we had to get a new one. We measured the space carefully, and went to buy a shiny new refrigerator. Of course, since this entire house apparently was built from stolen plans for a Halloween fun-house, the new refrigerator didn't quite quite fit in the space that the old one came out of. One side of the cabinet above the fridge was a little lower than the other, so the whole cabinet got emergently ripped out, leaving a second gaping hole there. We've been living with the gaping holes for about six months, but it was clearly time to proceed with the rest of the remodel.
Our contractor started work this week. We're getting new cabinets, replacing the oven and dishwasher that are on their last legs, and new granite countertops. Right now here's what it looks like.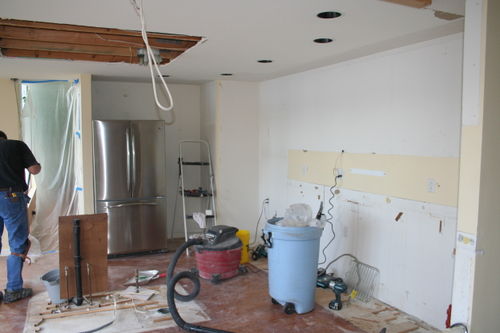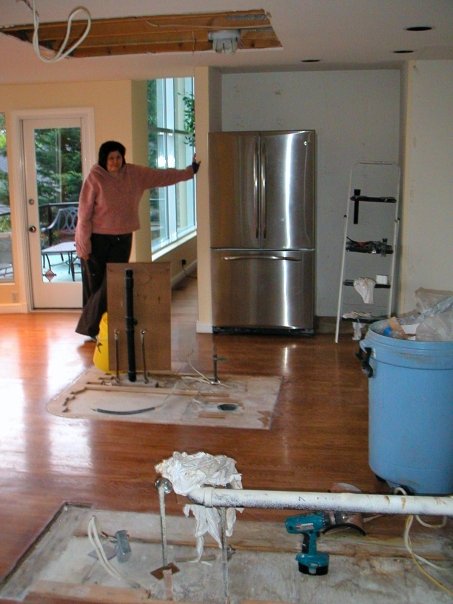 The only solution to that mess is to leave town. Fortunately the house has a tiny "kitchenette" in the basement, so we won't starve during the couple months that this is projected to take to finish. We're leaving this morning on our annual visit to Arizona to compete in the Great Mexican Train competition, AKA the Knitting Doctor's family reunion. I might be able to post from the road, otherwise I'll be back next week!