I am officially bored with everything I'm knitting. I actually like all my projects, but they've all been in progress for so long that they are starting to grow mold. There is only one thing to do in that circumstance: cast on something new!
I rummaged around in the yarn bins and found some lovely light fingering weight shiny stuff that I bought when we were in Europe this past fall. It was a simple matter to find a pattern that would work. I had both in the stash, and voilà, I even had the right size needles!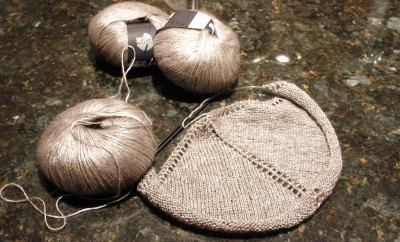 The yarn is Lana Grossa Lace Lux. It's more of a light fingering than lace weight, and I have 930 meters of it. The color name is Platinum 10, though it looks more like cremini mushrooms to me. Very shiny cremini mushrooms, to be sure. It's a wool/viscose blend. I got this somewhere on our trip through Amsterdam to Budapest, though didn't write down where we were at the time.
The pattern is Miriam Felton's Seraphim, so this is officially my Platinum Seraphim. Just to keep track, I'm using my Holz & Stein ebony needles, size 3.5mm. I uploaded the pattern to my iPad, tweeked it in KnitCompanion, and sat down to knit and watch those Seahawks lose today.
How about you all? What's new on your needles?