It's finally off the blocking board, after a little mayhem. I tried to expedite things and just pinned the bottom edges instead of running blocking wires through it, which resulted in a nice scalloped border. I looked at it for a day before I did the right thing and put in the blocking wires, then steam blocked the edge to straighten it out.
Project Details
Pattern: Boneyard Shawl, by Stephen West
Yarn: My own handspan, spun from Bluefaced Leicester wool on my Watson Wheel. I then dyed the yarn using Coreopsis flowers from our deck plants. I blogged about the dyeing here. The fiber came from Paradise Fibers, the brand is Ashland Bay. It was nicely prepared and very easy to spin. It also takes dye beautifully, which is a good thing, since I bought 4 pounds of it originally. This was 366 grams worth of yarn, about 790 yards.
Needles: 4.5 mm
Started: July 16, 2015
Finished: September 3, 2015
For: Me
Modifications: None
What I Learned: Oh my. It is really a lot of fun to see a project through from fiber to a finished wearable item. This is one of those patterns that could be adapted to a wide variety of yarn types, or even color stripes. He has a second version here that uses extra increases to make it wider and shallower. A nice bonus is that it's a free pattern. I predict that this will get a lot of wear. It's just the right size for a little warmth around the shoulders, and nice and squishy soft.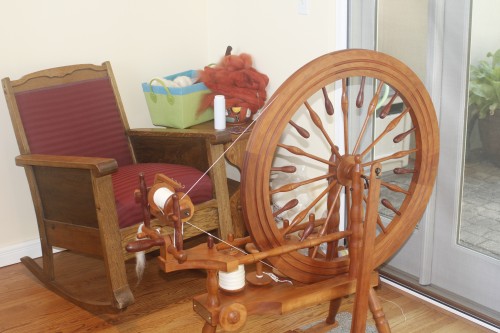 I'm calling this one a success!