Both the vacation and the sweater are finished. I'll show some photos of the vacation later this week when I sort through them. I think there are some swell examples of knitting on vacation in the bunch.
In the meantime, here's a photo or two of my latest finished project. This one has been a long time in the making. If it looks like I'm not particularly enjoying this photo shoot, it's probably because I'm in a wool sweater on a nearly 70 degree day. It also took several tries to get the color right on the photos. It's still a little washed out looking. The real color is more like the first photo below.
First, final seaming, with the aid of Knit Klips. If you haven't tried these, get over there and buy some now. I've had these for awhile, but it's the first time I've used them. They make sewing seams a breeze.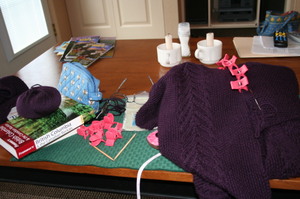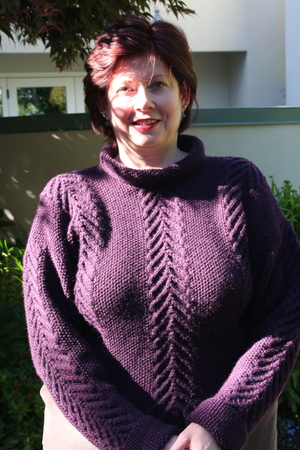 Project Specs:
Pattern: Laurel Hill, affectionately known as the Eggplant sweater around here. It's from Jo Sharp Handknitting Collections, Book Number 1.
Yarn: Jo Sharp DK Wool, in a color remarkably close to eggplant skin. Not too remarkably, it's called "aubergine".
For: Me me me.
Started: Oh, brother. I had to go way back in the archives on this one. I started this in December 2005. You read that right, people, 2005. An explanation follows in the "what I learned from this one" section.
Finished: June, 2007, in Fairmont Hot Springs, BC, on vacation.
Needles: 3.5mm & 3.75mm circs.
What I Learned From This One: Look for pattern corrections before you start knitting. Jo Sharp pattern corrections can be found here. I started this damn thing a couple of times before I got it going. Sometime around late winter 2006, this one went into hibernation because I was sick of it. I pulled it out again this winter and finally finished the thing. I also learned that I don't particularly like doing miles of seed stitch. I don't mind seed stitch, exactly, it just gets boring after about 20 miles of it.
Modifications: I modified the collar a bit. The pattern comes in two versions, one cropped with a snugger fit and a short stand-up collar. The other is looser with a cowl-neck. I did the cropped version, mostly because I was a bit worried about my yarn quantity. I did the collar a bit bigger around than the standard short collar, but not as floppy as the cowl. Otherwise it's pretty much as portrayed in the pattern book.
Verdict: I like this sweater. The yarn is absolutely wonderful, soft enough to wear against bare skin, and I'll get a lot of wear out of it. I had my reservations about the dropped shoulder construction, but it looks better on me than I thought it would.
What's next? I'm not exactly sure. I have 2 shawls and a pair of socks on the needles, but I like having a sweater going also. I'd planned on doing a sweater for John out of Peace Fleece, but I really don't want to be working with heavy worsted wool as we go into summer. I'm planning on a little stash diving to see what I come up with. It's not like I don't have options in those Rubbermaid boxes. You guys will be the first to know!
Next time, vacation photos!