I finished John's socks while we were in Arizona a few weeks ago, and just haven't gotten around to posting them. Here they are: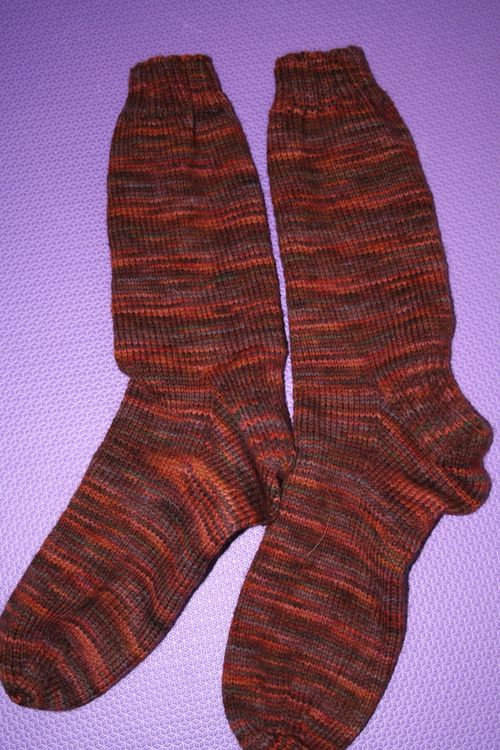 Project Details:
Yarn: Mountain Colors Weavers Wool Quarters, color Red Tail Hawk.
Needles: Ivore double points, size 2.75 mm.
Pattern: My own jerry-rigged sock pattern, on 60 stitches.
Started: February 7th, 2009
Finished: March 5th, 2009
For: John, to replace the first pair of socks I ever knit.
What I learned: Sportweight yarn knits up into socks faster than "sock" weight (duh!). I like knitting socks with nice yarn better than I like mending socks made from crappy yarn.
He loves them, and I think he's finally given up on the old holey pair.
——————————————————————————-
Portland was a fun trip, even though we were there for just a short time. The train ride there is really the way to go. If you figure in the cost of parking a car once you get there, it's much cheaper to take Amtrak, especially since Portland is such a walkable city. My sweetie surprised me with tickets to Wicked one night, which was fabulous. And I got to shop at Powell's, and at Knit/Purl, so the whole trip was a success.
On the remodeling front, the floors are done, and now we are just waiting for the cabinets to be finished. Once those are installed, the guys can measure to cut the granite for the counter tops. We're figuring about another three or four weeks before it's back in usable condition. We're already starting to plan what our first meal in the new kitchen will be!