I actually have finished knitting something! Two somethings, to be precise.
First up is the Baby Riley birthday present. It's off in the mail, so I can safely show it here. A couple of you guessed correctly, this was the Wonderful Wallaby pattern.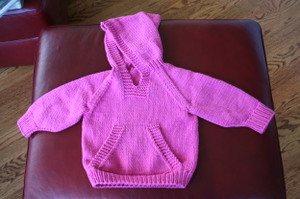 Project Specs:
Pattern: Wonderful Wallaby, by Cottage Creations
Yarn: Cotton Ease, in Pepto Pink (not the real color name!)
For: Baby Riley, my new great-niece (or is it grand-niece?)
Started: February 2007
Finished: March 29, 2007
Needles: KnitPicks Options circulars, and Swallow dpns, in size 4mm for the cuffs/bottom rib, and size 5mm for the rest.
Modifications: None. If I make this again, I'd do something differently with the split at the bottom of the v-neck. There's a loose stitch there that gaps, and I think there are ways to knit that stitch so it doesn't do that. I saw a version of this on Brooke's blog with a cable up each side of the pouch and around the hood. That would be fun to do.
What I learned from this project: I have never knit a whole sweater in the round before. I'd still do most of my adult sweaters in pieces, as I think you have a little more control over the blocking process with flat pieces. I also don't hate doing seams as much as many of you do. Mattress stitch seaming is actually fun to do, once you figure it out. For kid items, the in-the-round method is perfect.
Although I have a ton of Cotton Ease in the stash, this is embarrassingly the first thing I've made from it. The new colors are much more subtle, though again, for kid stuff, the bright crayon colors of the old CE can't be beat. For cheap yarn, this stuff knits up wonderfully. I think I'd go down a needle size next time I use this yarn. I only used 2 balls plus a little from a 3rd for the smallest size in the pattern. CE has great yardage for the price.
I'd also note that the smallest size in the pattern is for a largish baby/toddler. This won't fit a newborn, but that's OK. Most new moms get loads of newborn items that the kid grows out of before they even get a chance to wear them. This probably won't fit her until the winter months later this year, which is a good thing, considering that they live in the Phoenix area!
My other finished project: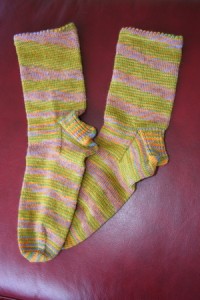 Pattern: My generic, top down, picot hem socks. These have a 72-stitch circumference.
Yarn: Dicentra Designs superwash sock yarn, in the color Solar Energy, purchased from Teyani at Crown Mountain Farms. Don't click that link if you are trying to limit your yarn acquistion. And don't say I didn't warn you.
Needles: Pony Pearl dpns, in size 2.00 mm. Yes, I knit the whole sock with that size.
Started: Remember this post?
Finished: This morning, in my jammies.
For: me!
Modifications: This is one of those logic puzzles, I think. Is it possible to call it a modification if you made up the pattern yourself?
What I learned: I shouldn't try to cast on with size 2.00mm birch needles and drink martinis at the same time.
Seriously? Knitting a whole sock on 2.00 mm needles is not any harder than knitting them on bigger needles. This yarn is a bit thinner than some other sock yarns, but the finished sock at this gauge has a very nice feel to it. I really like this yarn, and will probably buy more of it when my next "free" day rolls around.
By the way, the Brittany Birch people did send me a replacement for that broken needle. They sent a whole set, not just the one needle. So if you ever break one, just email them and tell them your sad story.
What's next on the sock knitting list? Well, since Easter is this coming weekend, I couldn't resist this lovely hank of yarn from my stash.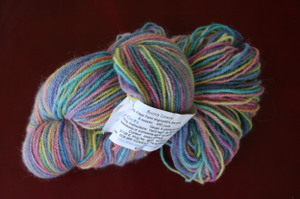 This is Bunny Luxury, from Joslyn's Fiber Farm. It's an angora/wool blend, in the color Easter Eggs, and is approximately a sport weight. I don't think she sells this particular blend any longer*, but it is amazingly soft. I thought this was an appropriate yarn for the season, even if there is no chance that I will finish them by Easter of this year! I just dare you to look at her yarn colors without buying something.
I'm off to wind up yarn.
Next time: Another installment of The Daily Bread.
*This is not the same yarn as the Bunny Heaven that she has currently available. The Bunny Luxury is 80% wool and 20% angora.