I was tagged by Denise to post a list of "firsts". Here goes.
What is the first thing you did in the new year?
Cleaned up the kitchen from the NY Eve party. There were no wine bottles on the lawn this time, thankfully.
What is the first thing you ate in the new year?
I don't remember. I think I had a banana and peanut butter for breakfast. The first "real" meal was those BEPs from the last post.
What is the first thing you knit in the new year?
See below.
What is your first 'blessing' of the new year?
Waking up next to my sweetiepie, the lovely man I'm married to.
What is the first thing you will do to make the world a better place in the new year?
Not tag anyone for this meme.*

Just kidding, I'm not really anti-meme. I just liked the whiskey part.
Post the first photo you took in the new year!
Those peas turned out just lovely, by the way. A little overdone, but I had an excuse. Kris came over yesterday afternoon to knit, and before we knew it, the peas were done and it was time to eat. So I shared our good-luck peas with her, and she took the leftovers home for her family. And yes, BEPs do bring good luck; I got to knit half the afternoon with a friend!
Here's what I worked on. This is the Jo Sharp sweater that's been in the timeout pile for a long while. I have the front finished, and started on the back yesterday.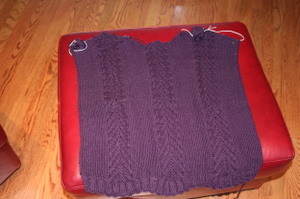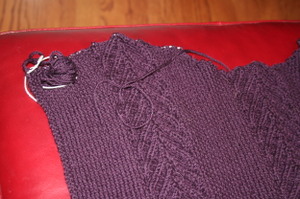 The pattern directed me to bind off the shoulder stitches, then later sew the shoulders together. As these have no shaping, but are just straight across, that made no sense to me. Ever one to look for shortcuts, the shoulders are on string holders, to bind off together later.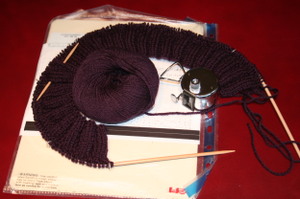 Last but not least, my New Year's  Resolutions. They're simple. Knit more, read more. And knit more from the stash, read more from the stacks. I have enough books and yarn around here to last more than one lifetime. I'm not outlawing purchases of either books or yarn, just resolving to at least look at the current stash before I buy more. There you go.
I'm off to Arizona to visit my sisters. One of them lives in Phoenix, the other is going there on a holiday. I've mentioned our rule previously, if any two of us get together, the third one has to show up, too. Otherwise the other two might talk about her. So we're going for a few days, will get caught up on a lot of celebrations we've missed, and party a bit. Diane does have internet access, so if there's a moment when we're not either shopping or partying (or getting tattooed-remember the last trip?), I might get a post in.
Enough of this! Now let's go have some whiskey!
*If you want to be tagged for this one, have at it. Leave me a comment so I can go gawk at your answers.