Or, Where I Am In That Crazy Never-Ending Eggplant Sweater
I really am going to finish this one of these days. For those not keeping track, I started this way back in December of 2005. Not 2006, but 2005. It sat in time-out for most of last year due to a variety of issues. I've been pretty sporadic about working on it, but I swear, I am not starting one more thing until this is done. That's the first of two sleeves, and seriously, I'm thinking it would be preferable to just amputate an arm at this point. I don't mind seed stitch, as I don't mind purling, but given the miles of seed stitch in this sweater, I am getting heartily sick of it. That cable pattern going up the sleeve is of course the same one repeated across the front and back, so it's all just boring at this point.
Not boring: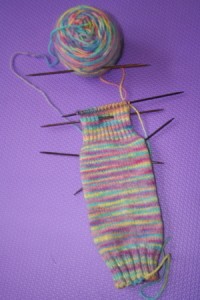 The Easter Egg socks are just wonderful. I love this yarn, even if I clearly can't take pictures. While the yarn is a bit fuzzy, it's my photography skills, or lack thereof, that makes them THAT fuzzy. I now have proof of why I buy as much yarn as I do for the stash. I only have one color of this yarn, this one, and they don't make it anymore. Do I need any other evidence? I'm about ready to turn the heel on this one, my favorite part of sock knitting.
And in the category of funding my yarn retirement program: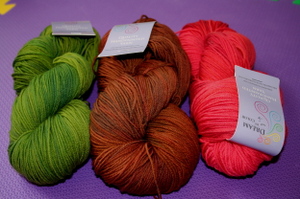 Oh my. This is Dream In Color sock yarn. I was following clues on the internet one day, and found this. A few quick emails back and forth to Kris, the owner of Sonny and Shear, and she had a order on the way to her online shop. It came last week. It came, I ordered, it was delivered. She of course normally mails things, but we belong to the same knitting group that meets weekly, so she delivered it to me Wednesday in person. She had it in a brown paper sack so I could sneak it into the house without any interrogation. It sort of reminded me of a drug-dealer handoff.
Turns out I didn't need to sneak it in. John took one look at that brown yarn, and claimed it as his own. (For socks for me to knit for him, not for him to knit!) Go buy some of your very own before Kris sells out of the stuff.
We're off for another adventure tomorrow. We're using a week of timeshare to go to Hilton Head.  My sister-in-law Ena will be there for part of the time. She emailed me to say that she's learning how to knit, so I'll have a partner in crime while I'm there. Woot! You'll have to excuse me, I need to go pack knitting projects.
Added Later:
I promised Teyani a photo of my knitting spot in the kitchen: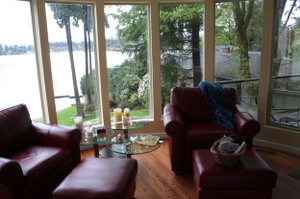 When we remodeled, we got rid of our kitchen table and put in comfortable chairs for people to hang out in while we cook and chat. It's turned out to be my favorite place to knit. When I'm in the kitchen by myself, I turn one of those chairs around to face the lake. Perfect!