And finally, here are the photos of the blocked shawl. This week got away from me. We've had a variety of visiting friends and relatives staying with us over the past 2 and a half weeks, and I worked all last week. It was also cloudy and rainy much of last week, which doesn't make for very good photos. Those are my excuses, and I'm sticking to them.
Here's the shawl blocking: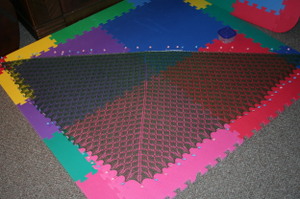 Sorry if that looks a little psychedelic. Here's the taped-to-the-deck-rail shot.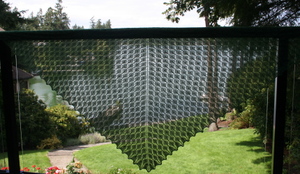 And a close-up.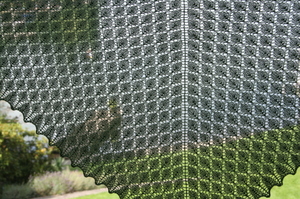 Project Specs:
Pattern: Forest Canopy Shoulder Shawl, by Susan Pierce Lawrence. You can buy the pattern here.*
Yarn: JaggerSpun Zephyr laceweight, a 50-50 wool-silk blend. I'm pretty sure the color is Bottle Green. At least I think it is. I bought this before I started my obsessive compulsive Access yarn database file, and there was no label with the yarn.
For: Me me me.
Started: Way back last fall. September, I think. Yup, here it is. I did the first version in the Mountain Colors Weavers Wool that she recommends in the pattern, and liked it so much I immediately started this one in laceweight.
Finished: Last week.
Needles: Holz & Stein 3.25mm ebony circular.
Modifications: I used laceweight yarn instead of the sportweight yarn called for in the pattern. I just did repeats until I was close to running out, and then did the edging. Otherwise I knit the pattern as written.
What I Learned: I just love knitting lace. The finished project also really impresses people, especially non-knitters. I also love Zephyr yarn. It has a great sheen, and comes in tons of lovely colors. This is a perfect pattern for lace virgins. Trust me, if you can knit and purl, you can do this one.
Here's how much yarn I had left. The shawl weighs just a hair under 80 grams, and that little bit left weighs 1.8 grams.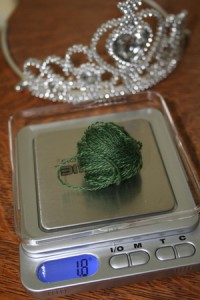 Next up on the lace front? Langsjal Jóhönnu**, which has been in hibernation for over a year. I'll show some photos next time. Right now I'm busy trying to figure out where I left off with the pattern.
*Oooh, oooh, oooh! Her lace patterns are all on sale! Go there now!
**I'm pretty fracking proud of myself for figuring out how to do the accent and umlaut on that word. It only took me 14 months.