Now that ought to get everybody's attention! First, though, thanks to everyone who sent fine birthday wishes, and also for putting up with the endless travelogue in the past few weeks. We made it home safely, though I'm still not quite recovered from the time changes. Even the switch to and from daylight savings time messes with my head, so an eight-hour change is really doing it to me. I've been waking up at 4 AM, which wouldn't be so bad, but I'm a zombie again by about 6 PM.
I just downloaded all the photos off my camera this morning (after I woke up at 4 AM in the middle of a Halloween-slasher kind of nightmare). There are over 700 of them, and all I can say is thank God for digital. John has his own camera, and I suspect an equal number of photos. He's in charge of photo selection and album content, and once he gets them weeded down to a reasonable number, I'll provide a link to the online version for anybody who hasn't seen enough already. I might post one or two here and there, just because I can.
OK, here are a couple before I get down to the business you are all really interested in.
One last Guinness: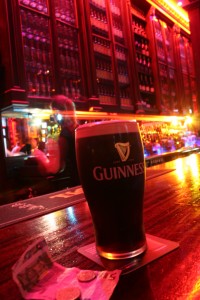 We found this building in Kinsale. Read the sign over the door. I might need to join after 16 days of Guinness, wine, and Irish whiskey. Click to make it big enough to read.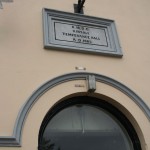 Here's that sweater that several of you asked about. As we rounded Slea Head on the Dingle peninsula, we had to make a stop for the "facilities", and found a nice craft shop. A lot of the "craft" shops in Ireland are full of cheap trinkets, what I like to call "rubber tomahawk" shops, but some are quite nice. They had some lovely Aran sweaters that were labelled as hand knit, and were pretty inexpensive if they really were handmade. I couldn't resist. John thought it was pretty hilarious buying a wool sweater when I'm a knitter, but I was cold, hadn't found any yarn as of yet, and there it was.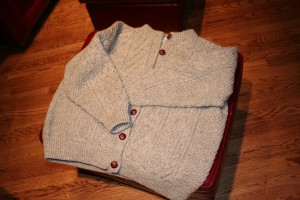 It's quite warm, too. I more or less wore it for the rest of the trip.
OK, now the moment you've been waiting for, the free yarn. I found this in a craft shop in Leenane, which I blogged about while we were on vacation.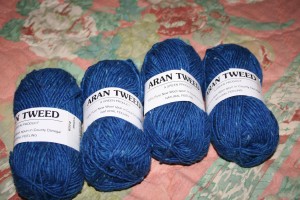 As the label says, it's Aran weight tweed, 100% Donegal wool, in a lovely blue color with little tweedy speckles. There is no weight or yardage listed on the labels, but it's all one dyelot, and each weighs 50 grams. This would be enough for a hat, and perhaps hand warmers as well. It's labelled as "A Green Product", and "Natural Feeling", which I find amusing. Once again, click to embiggen and get a better view of that electric blue.
One of my lucky readers will win this yarn, along with perhaps a tiny surprise or two. This is simply shameless promotion on my part. Since I moved the blog, my RSS subscribers have dropped from over 700 to 38. The competitor in me finds this a bit demoralizing, so one of the purposes of this contest will be to get you to subscribe. Just hit that button over there that says "subscribe", pick your blog reader, and Bob's your uncle. Of course, I won't really know which ones of you are subscribing, so here's how you can get a chance to enter the contest. Leave me a comment on this post, telling me about your absolute favorite place to travel. If you don't have one, tell me where you'd like to go, if time and money were no object. I'll let the random number generator pick a lucky winner. The deadline will be, oh, let's say Thursday, the 15th, at midnight my time. Good luck!