The Daily Bread
Here's the bread that I came up with yesterday.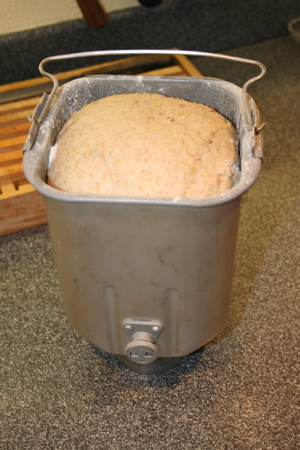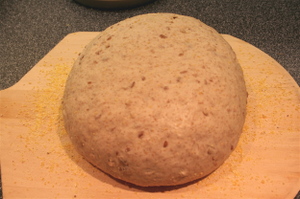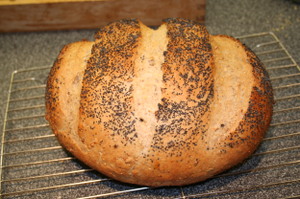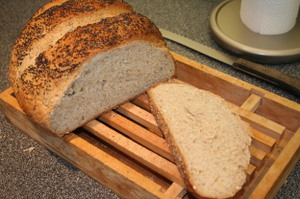 And here's the recipe, such as it is. You're on your own as to the details. I mix this up in the bread machine on the dough setting, then make a free-form loaf and bake it in the oven directly on a baking stone.
I've discovered that there is a lot of flexibility in a bread recipe. I basically start with a formula of 3 cups of flour and 1 cup of water, and improvise from there. My bread machine is a Zojirushi, and they don't make the particular model I have any longer. It makes a 1 1/2 pound loaf, so if yours is smaller, you'll need to modify the amounts accordingly. My machine calls for adding the liquids in the bottom, then the dry ingredients, and the yeast on the top.
I use King Arthur flours, and keep everything except the unbleached white in the freezer. I use that up fast enough that I don't worry about it. The yeast I use is SAF-Instant brand, and I buy it in bulk and store it in a tin in the refrigerator. The added gluten flour gives you more of a rise out of your flour. I use it if I'm adding whole wheat or rye flour, about a Tbl of gluten flour for each cup of ww or rye that I'm using. If you're going to bake the bread directly in the bread machine, watch it with the gluten flour; it gives the bread a nice oven spring, and you might overflow the pan! If you take a look at that loaf in the bread pan, it never would have made it through the machine cooking cycle.
2 cups KA unbleached white flour
1 cup KA pumpernickel flour
1 tsp salt
1 Tbl gluten flour
1 Tbl olive oil
2 Tbl honey
1 cup water
2 1/2 teaspoons yeast
1/2 cup seed/grain mix, soaked in just enough hot water to cover
More flour or water as needed
Put the ingredients in the bread machine according to your machine's instructions.  Let the seeds/hot water stuff cool a bit before adding. You can use a commercial cereal mix, or mix your own (wheat flakes, oats, a variety of seeds, polenta, bulghur wheat, etc.). I mix up a plastic container full and keep it in the freezer.
Once your bread machine starts, open the lid and play around with adding more flour/water as needed. You want a ball of dough that is floury enough to stick together, not too wet, but not too floury either. With experience, you'll figure out how much to add. Remember that after you add more flour, it might take a bit before it absorbs the liquid, especially if you're using ww or rye flours. If you add too much flour, you'll get a leaden ball that feels more like a brick. After the machine is finished with the dough cycle, take it out, knead a bit to get a feel for the dough, add more flour if it's sticky. Form your loaf, either in a pan or on a board, let it rise again until almost double. I sprinkled this one with poppy seeds, then slashed the top right before popping it in the oven. I beat an egg white and brush a little of it on the top so the seeds stick before I do the sprinkling.
I keep a baking stone in my oven, and preheat for at least 30 minutes so the stone is evenly heated. This one I started at 400 degrees, but this is a bit flexible as well. My oven runs cool, so you might try 375. Watch the bread, if it's looking like it's getting too brown on the outside but not done in the middle, turn the oven down, or cover your bread with a piece of foil. I start checking the bread at about 20-30 minutes, and use an instant thermometer to tell when it's done. Stick it in the middle, when it reads somewhere around 190 degrees, you're there. Your bread should also sound hollow when you pick it up out of the oven and tap on the bottom.
I also use a spray bottle and shoot a little water in the oven towards the oven walls every few minutes during the first 5-8 minutes or so to create steam. This gives it a nicer crust, but mostly makes me feel like Julia Child. If you have an oven light, don't spray right on the bulb, the cool water could break it. Julia would never do that.
When it's done, take it out, put it on a rack, and admire it. But restrain yourself from cutting into it until it's cool, or nearly so. Bread, like a roast, cooks more when you take it out of the oven. If you cut into it right away, you'll get an unsatisfying texture, more gummy than not. And remember that homemade bread doesn't keep as well as store bought. This is usually not a problem around my house!
This is a great resource for bread bakers, and has a lot of other cooking tips as well. My favorite bread book is this one. Peter Reinhart's books are also lovely, though not about bread machine baking. Yesterday's bread was from one of his books, and is his Struan bread, one of my all time favorites. Here's a link to the recipe.
This link tells you a little bit about adding other stuff to your bread, and what you might expect when you do so.
I'll now return you to your regular knitblogging programming.