Another one off the needles!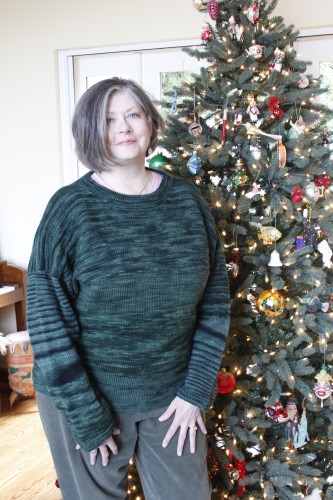 Project Details:
Pattern: Corduroy, by Lisa Lloyd, from her book A Fine Fleece
Yarn: Araucania Nature Wool Solids
Needles: 4.00 mm
Started: May 1, 2012
Finished: December 1, 2013
For: Me!
Modifications: Not a thing, other than some creative row counting on the sleeve decreases. They are mostly the same length, so it's all good. (They really are, though you couldn't tell by that photo. That's me, slouching in defiance of that charm school I apparently never went to.)
What I Learned: It takes me forever to knit a sweater. Ok, ok, I already knew that.
I really like this one. I still think a drop shoulder sleeve isn't the most flattering for most people, but boy is this comfortable. I was a bit iffy on the yarn variegation, but once it was done I like it. I predict that this will get a lot of wear, especially since we're hitting record freezing temperatures in the Pacific NW.
So what do you do if it's blasted freezing where you live?? Well, if you're apparently an idiot, you plan a medical conference for a week in December to somewhere even colder. We leave tomorrow for Boston, where this time of year can be a little dicey as far as weather. Although the forecast for Boston actually looks warmer than here for this coming week. We'll see. I'm packing that sweater.