By Rosalind Miles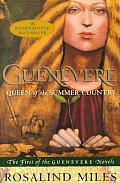 Hmmm. What to say about this one? I sort of liked the story, though it's been done a few too many times. It's part of a trilogy of Guenevere stories, and I'm a sucker for trilogies.
In the end, I'd have to say that I wouldn't buy the rest of the set. So many books, so little time to read those that don't grab me by the throat. I liked Mists of Avalon, by Marion Zimmer Bradley, much better.
515 pages.
You might have noticed that there's been a gap between the last post and this one. One might think that reading that last book threw me off for months, but I just forgot to post. I'm not even going to try to catch up. I'll try to do better in the future, but there have been a few hundred or so pages that missed getting counted because I was too lazy to put them in here.