OK, another 2 weeks got away from me. All of a sudden it's August, the month of visiting friends and relatives. Our extra bedrooms are fully booked for the next 2 weeks, so if any of you want to come out and visit, take a number. And of course, now that we have people coming to visit, the weather has gotten crappy. It's only in the 50's this morning, though it's supposed to get nicer later.
Here's what I've been working on.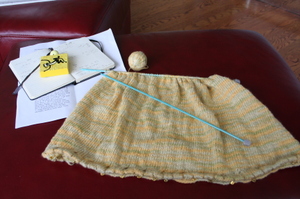 I'm close to the armhole decreases. I'm still working with a somewhat nebulous pattern. I want a v-neck, but after Lisa posted this, I'm revising how v-d it will be. I don't want it to grow into something I need to wear a camisole with. I also want three-quarter length sleeves, but I'm not sure I have enough yarn. Of course, if this stuff grows that much, I can just do short sleeves, and wait.
I've also been working on those Krauterbeet socks, yarn from the Wollmeise. I have one done, and the second started.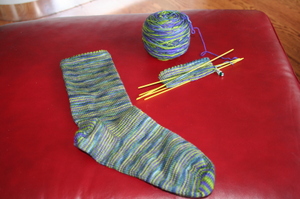 I can't even tell you how much I love this yarn. Wendy posted recently that the hank she had split like crazy, and was very twisty while knitting. It is very twisty, indeed. Mine doesn't split, though, I'm not sure why the difference. I have, ahem, four more skeins of this in different colors in the stash. Well, I couldn't just order this all the way from Germany and just order one hank, now could I?
And here's the shawl and Riley, being Kinneared: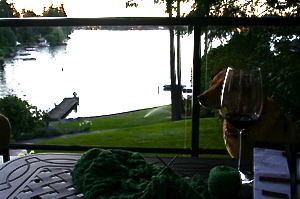 Sorry about the crappy quality of that photo. I just held the camera down and clicked, hoping to get some version of the shawl and the lake. Riley was a bonus. No, she wasn't drinking the wine, I was, that might account for the photo.
Here's what else I made last week.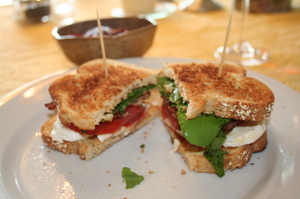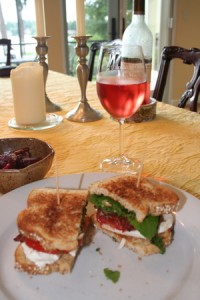 Upscale BLTs, with pancetta, arugula, and mozzarella, and heirloom tomatoes. These were yummy enough that we're doing them again today, this time with the burrata cheese that the recipe called for, and homemade bread. The recipe is in Bon Appetit from August this year. You can find it here. These are just unbelievably good, so go make some. I'll take photos of the finished project and post them later!