We are close to the end of our lovely vacation. We spent last week in our little cabin on the North Fork of the Flathead River in Montana. The deck of the cabin was about ten steps from the river, and directly across the river was the boundary for Glacier Park. It couldn't have been a more lovely spot to spend the week with my two sisters and their husbands. I'll get around to posting more photos later, but here is just one.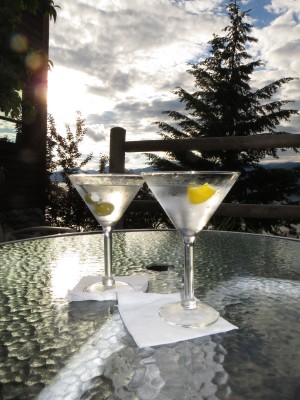 After we left the Glacier area yesterday, John and I headed home. We drove here from western Washington, and we're taking a couple days to drive back home across northern Montana, Idaho, and Washington, just to see some parts of the states that we have never been to before. We stayed at the Lodge at Sandpoint last night, where that photo was taken, and had a great martini on the deck. In case you didn't know, June 20th was National Martini Day. We did celebrate it properly on the correct date, but figured this was too beautiful a spot not to extend the celebration.
I did find some yarn shops, by the way. There was a nice shop in Kalispell, and another lovely little shop in Whitefish. There was one listed in Libby, but like a lot of storefronts in Libby, it was empty. There must not be many knitters there.
We're headed back into Washington this morning, and then home tomorrow. I'll post more photos later.