For New Year's Black Eyed Peas, that is. I have a big pot simmering on the stove at the moment. Of course, I thought I'd document the event for the blog, in case some of you aren't Southern, or married to a Southerner. My husband, being a good Carolina boy, has to have his BEPs for the New Year. And being the good wife that I am, I am cooking up a pot for supper tonight. Here's my recipe, such as it is.
Get everything together for the photo shoot: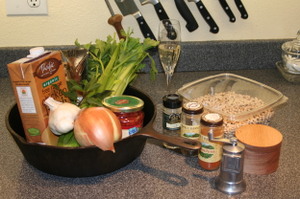 Saute up the veggies: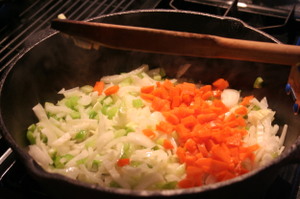 Toss in everything else, and take another picture: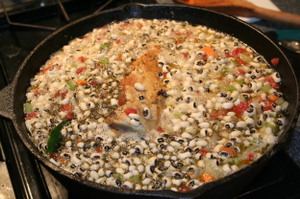 While you wait for mine to finish, here's the recipe.
1 large yellow onion
garlic, as much as you can stand (5 cloves in this batch)
3-4 stalks celery
1 large carrot
3 cups BEPs, picked over and rinsed
chicken stock (or veggie stock)
1 bottle beer, any variety
1 jar/can chopped tomatoes and juice (this was a 14 oz jar)
worcestershire, a splash
Dijon mustard, a teaspoon or two
thyme and oregano, about 1/2 tablespoon each
ground pepper
2 bay leaves
cayenne, to taste. I usually start with about 1/8 teaspoon, but generally add more later
Ham hock*
More liquid, as needed (I usually just add water at this point as necessary)
Chop up your veggies. Chopped bell peppers of any variety are good, too, I just didn't have any. Saute in olive oil until the veggies are soft. Add everything else and bring to simmer. I usually start with a quart of chicken stock, the juice from the can of tomatoes, and the beer, and watch it as it simmers to see if it needs more liquid. You're aiming for something that's not too soupy, but juicy enough to ladle over rice later.
Cover and simmer until peas are soft, maybe 45-60 minutes. BEPs don't take nearly as long as other beany varieties. Taste the juice somewhere along the middle, and adjust the seasonings. Add salt part-way into the cooking. Cook up a pot of white or brown rice, serve the  peas over the rice, wish for good luck in the NY!
A good IPA beer goes nicely with this, though a fruity red wine or a Spanish white works as well.
Have a good NY!
* Added later: I actually used a smoked ham shank this time, so it was meatier, then picked the meat off the bone after it was done and tossed it back in with the peas. Not necessary, but very yummy.