It's finally done: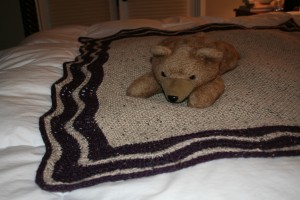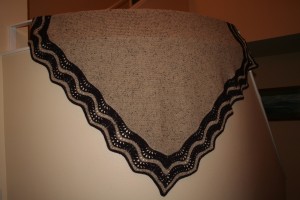 Project Details:
Yarn: Knitpicks City Tweed Aran weight, in Snowshoe and Brocade. I used 5 skeins of the former, less than 3 of the latter.
Pattern: Brooklyn Tweed's Baby Blanket pattern, roughly. I started knitting based on a previous blog post, and then he released the pattern. The original pattern used the DK weight of the same yarn. I just started knitting away, and had finished most of the center before the "real" pattern was available. I just figured out how many pattern repeats would go around the outside and picked up that many stitches.
Needle size: Denise 10 1/2. Though when I got to the I-cord edging, I pitched them and used a large Addi instead. The Denise needle tips kept unscrewing as I was doing the edging, though I have never had them do that before. I suppose there was some twisting action of the I-cord that caused this.
Started: June 1, 2009
Finished: August 29, 2009
For: My first grand-nephew, Jacoby!
What I Learned: Start baby projects early. Seriously. They come faster than you think. Also, I love this yarn to pieces. We'll see how it holds up. It's softer than soft, so I'm thinking it might pill, but you could wrap it around a barenaked baby without any qualms. It's not superwash, so those of you thinking this would make great baby clothes might think about that a bit.
I also learned that I'm not so fond of doing I-cord edging, though it is mighty pretty once it's done.
Credits: Sweetpea, the stand-in baby model.