Or,
Finished Project!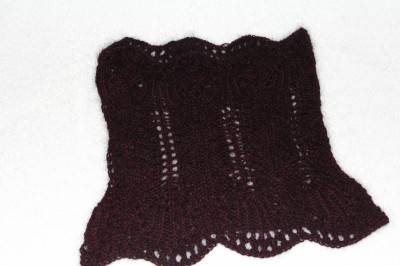 Pattern: Pretty Thing, by Stephanie Pearl-McPhee
Started: March 13, 2013
Finished: November 14, 2013
Yarn: Great Yarns! Pure Elegance. The color is burgundy marl. This was a total impulse purchase at Madrona last February. I was shopping with Sally from Knit Companion and Dorothy from Missouri Star. We saw this gorgeous mink yarn and each grabbed a skein. We decided on the spot to knit Pretty Things with it. Sally also cobbled together a pattern for fingerless mitts, and I should have enough yarn left to do a pair.
Needles: Um, I apparently didn't write it down, and I can't find the needles right now.
For: Me!
Modifications: None
What I Learned: I don't like knitting with a short 16 inch circular. This yarn has absolutely no memory, so I was a bit skeptical about using double points with it. I tried using two circulars, and ended up going back to the one needle.
I love the pattern, it is very well written. I wouldn't use this yarn for anything that gets much wear and tear. It's softer than soft, very drapey, no "boing", and pulls apart if you tug at it. It's gorgeous around your neck as a little bit of luxury though.
I promised that I would pull something out of Box #1 to start once I finished this. Stay tuned!