That's my new knitting campaign title. I have no lofty goals for knitting through those boxes of yarn I posted about last week, except that I want to end next year 2014 with fewer storage bins than I started with. I also have no illusions that I'll make it through a year without buying yarn. (a YEAR? Snort. I might manage a month.)
But my digging through the boxes and bins of yarn this past week has revealed that I have lots of lovely projects-to-be in there, and I aim to knit some of them this coming year.
I promised a new project now that the Pretty Thing is finished. Here you go. This is from Box #1 from a couple of posts ago.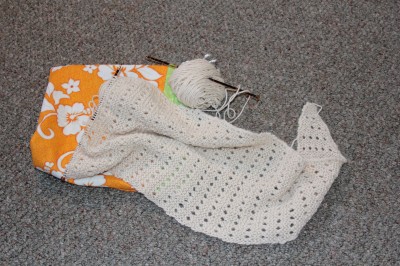 That is the Inca Alpaca, well on its way to becoming a Lacy Baktus scarf. I've made two of these previously, and they are very versatile to wear. It's also a nice way to brainlessly use up a whack of yarn. You start at one end, and increase until half your yarn is gone, then decrease till you're out of yarn. This is where the handy dandy drug dealer's scale comes in.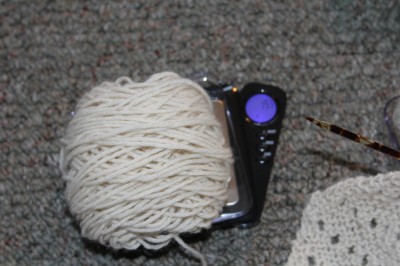 I weighed all three skeins before I started knitting, and when I was partly done with the second skein, started weighing again, stopping the increases just short of half the yarn. Clever, eh? I had to reknit about half of the first one of these that I knit, since I just guessed about how much yarn I had left.
I've also been working on this.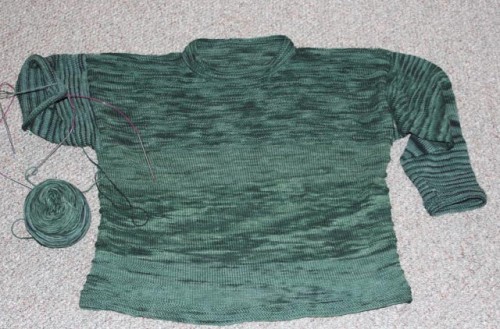 I may even be coming to terms with knitting those sleeves top down on two circulars. It won't ever be my first choice of how to knit them, though. I'm hoping to finish this in the next couple of weeks. Then we'll see what else I pull out of my magic bins to knit!