We're on the road, having left Dublin after a three-day stay there. In every place we've been, we easily could spend a whole vacation seeing the sights and enjoying the local people and customs. But onward we go. It's impossible to see everything in one vacation, even a relatively long one (16 days total for us).
Kilkenny was our first stop after Dublin. This is a very attractive medieval town with winding narrow streets and a huge castle that dominates the landscape. We took the castle tour, wandered the streets, and had a pint or two in a local pub.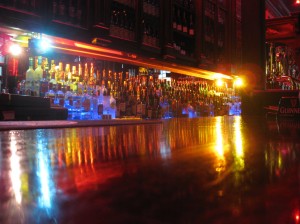 We only spent one night there, then hit the road in the morning, headed for the Rock of Cashel. Driving in Ireland, on the "wrong" side of the road, is quite entertaining. So far, John hasn't trusted me to drive, so he drives and I'm the navigator and map-reader. All I can say is thank God for Jill, the GPS lady who came with us on the trip. We've finally learned to just listen when she shouts "turn!  turn!". We took the little winding back roads for this part of the trip, which was a bit hair-raising. The N roads are the wider roads, just wide enough for two cars to pass without taking off the side mirrors. The R roads are a bit narrower, and when you meet another car, you have to make a choice. You either stay where you are and lose the driver's side mirror, or you pull over and put scratches in the finish on the passenger side.
The non-N, non-R roads are what we drove yesterday. Mostly they are big enough for one car, and you just pray that if you meet someone coming at you that they are not going the posted speed limit of 100 km/hour, and that it's not on a blind curve. So far we still have mirrors and most of the paint on the car.
The Rock of Cashel is an old fortress/cathedral that is in ruins, and highly worth the trip.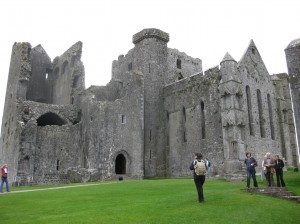 We didn't sleep in Cashel, but drove on to Kinsale for two nights, which is where we are now. No photos yet, but you can be certain there will be! This is a lovely little harbor town, with a lot of historical significance, so we're off for the day to tour the village and see the ruins of the Fort. I also had no clue that the Lusitania was torpedoed and sunk right off the coast here, so that was an interesting factoid.
John's clamoring for his turn with Minnie* so I'm off for the day!
*Minnie Dell, of course. What were you thinking?