First of all, a cute pup photo: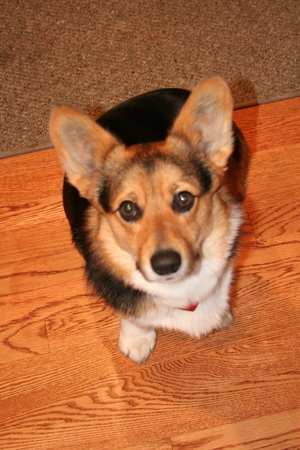 Lewey would like to thank all of you for the good wishes and congratulations. His 1st birthday was December 14th, and in honor of the occasion, we took a family vote (a little before our 2-week trial period was over) and decided that he's staying as part of our family. He's very happy to have a permanent home. He's also settling in just fine. He had some food aggression issues at his former home, due to being in a house with another non-neutered male Corgi. The breeder that rescued him also had him "fixed", and that plus a little focused training seems to have fixed the issue. He's sweet, smart, and a fast learner. The cats didn't get to vote, by the way. He's already learned that he can't chase cats around here, but doesn't always succeed in the attempt. They both have claws, so sooner or later he'll learn the lesson the hard way.
Now, on to knitting. We pretty much have your same three projects going here, a big grey sweater, a purple Icelandic lace stole, and a pair of socks. Just so I could have something new and different to show, I started and finished a pair of mittens this past week. I realized that I did not have even one pair of mittens or gloves to wear, which is sort of ridiculous, given the 12 boxes of yarn balls I have stashed in every closet and corner of this house.
Way back when, I bought several colors of Brown Sheep Handpaint Originals, 3 skeins of each. I think I was planning on socks, but this stuff is perfect for mittens. Here they are, a couple of in progress shots, and then finished.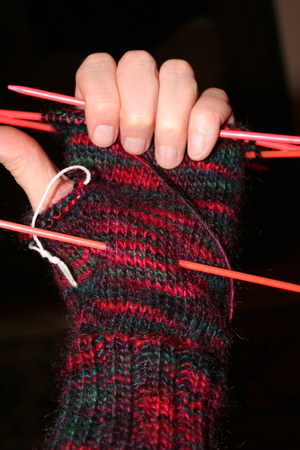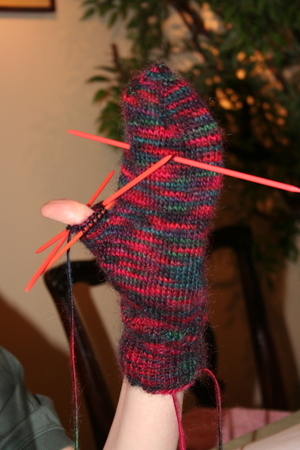 Project Specs:
Yarn: Brown Sheep Handpaint Originals, color Sara's Dress (I love that name!)
Pattern: Plain mitten, from Ann Budd's Knitter's Handy Book of Patterns.
Needles: Pony Pearl Dpns, size 3.75mm.
For: Me, the one without any mittens.
Started and Finished: in the past 2 weeks, December 2007
Modifications: Pretty much none, but it's one of those generic patterns that you can do a lot of things with. For future reference, I made these using the "6 stitch/inch gauge, 44 stitch around" directions. I could go down a size next time and still be happy.
What I learned: It takes very little time to make mittens. This was my first pair, and for those of you new-ish knitters, I'd rate mittens easier than socks. I just love this yarn. Thumbs are cool to knit. But I don't so much like the spiral decreases at the top of this, finished with pulling the yarn tail through the last four stitches and drawing it closed. Next time I'd try my standard toe finish, which is the paired decreases at either side, then grafting the fingertip end.
I have quite a bit of yarn left over as well. Is it enough to make another pair? Out comes the Magic Scale, and we'll find out: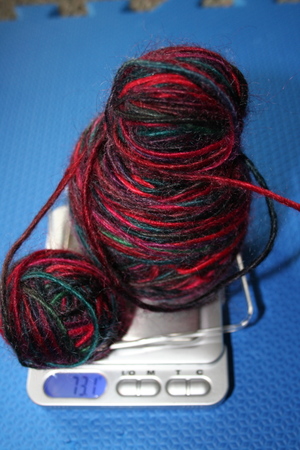 Just a couple grams less than half left. So if I make a bit smaller size, I'll get another pair of mittens! Surprisingly, my sweetie said he would wear this color and would love mittens, so maybe I'll give him these and make myself the second pair. Isn't that sweet–matching mittens!
And just so you don't think I'm completely ignoring my other projects, here's Big Grey. I have the front and back done, and here's where I am on Sleeve Island.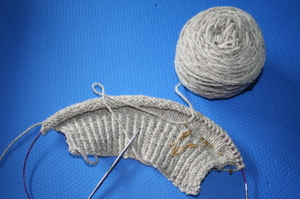 Bring on the piña coladas, I might be on this island awhile.