This is what sock laundry day looks like at my house: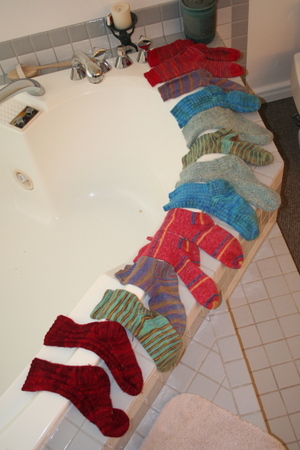 For the record, I do my socks in the washer. I throw them in on the delicate cycle, and they mostly do OK. Our washer and dryer are on their last go-around, and I've told my spouse that I don't care about any other features for a new one, it has to have a handknit cycle.
I went to Madrona last night to hear the Yarn Harlot (do I really need to link to her?) speak about charity knitting. Of course I took my charity knitting: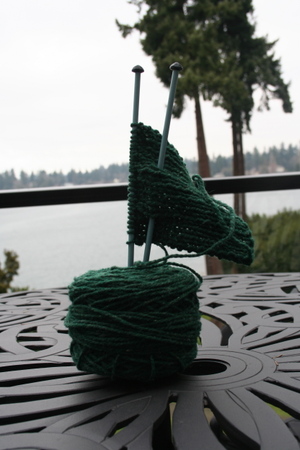 Yes Kris, those are different needles than I started it on. I got about 5 inches done last night, got home, decided the fabric was much too stiff, ripped out, started over. Repeat as necessary. The yarn is Beaverslide Dry Goods, their 2 ply fisherman weight 100% wool yarn. The color is Alpine Fir. I have a bunch of lone skeins of worsted and heavy worsted weight yarn in the stash that is perfect for Dulaan hats, mittens, and scarves. This will be a scarf.
We had dinner at a little Thai restaurant just up the street from the convention center. The place was packed with knitters, most of them knitting. There was a line waiting for tables, most of them knitting. I can't imagine what the people that run that place must have thought. In my ideal alternate universe, this is what every restaurant would look like. Of course I forgot my camera. I sat beside Fiona Ellis at the knitting bee, and she was wearing that lovely cabled hoodie, Celtic Icon*, from her book, Inspired Cable Knits. I wanted to steal it. I didn't think she'd want to trade for the 5 inches of ribbed scarf I had on the needles, so I kept my mouth shut, and just sat there and envied it. Once again, no photos, as the camera was at home.
Tonight she is talking at a free session about the Knitter's Muse. Unfortunately, for some reason that escapes me**, I signed up for an extra work shift, so I can't go. I'm going tomorrow just to sit in the lobby of the Sheraton and knit with all the other people that didn't get around to signing up for classes. Come on out and join us if you're in the neighborhood!
*Does anybody else think that this sweater would look better just in one color? Even with the subtler color scheme used in the book, I think I'd like it better in all one color.
**Oh yeah, my husband reminds me that it's to pay down the yarn debt. Now I remember.