This is going to be a very short post, since our internet access here is slowwwwww. We're in a cabin outside Glacier Park for a week with my sisters and their spouses. It's glorious, we're having a blast, but the photos will mostly have to wait till later. Here's one: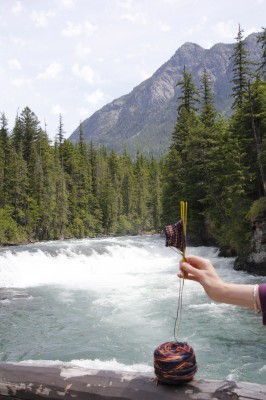 I did finish John's socks the day we got here, just in time for Father's Day. He put them right on and wore them for three days straight, so I think he likes them. I'll post a photo later. That's the new sock up there. It's Lorna's Laces sock yarn, the color name is Live Long & Prosper. It's the colors of the Star Trek uniforms. What can I say, it amused the geek in me.
That's all for now. The thing to do when the internet is slow is to take it as a sign and turn off the devices. I'll post more photos when we get home.