Or, Why The Major Is Way Ahead Of Me: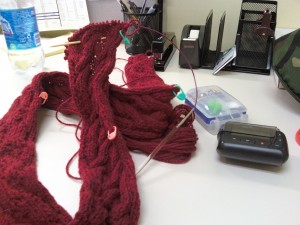 I do have an excuse, of sorts.  I had a little malfunction involving some exciting episodes of NCIS (Mark Harmon, anybody?? He's quite distracting!), along with an apparent ability to follow a cable chart as written. I'm currently at 16 of 20 repeats of that pattern, and somewhere back at about repeat 12, I goofed. There are these nice center cross cables, and I noticed that I'd forgotten to cross one of them about 12 rows back. After some judicious use of swear words, I bit the bullet and ripped back to fix it. Somewhere along in repeat 13, I took a look again, and noticed that not only had I crossed the cable like I was supposed to, I'd apparently made up for the earlier lapse by crossing it twice.
I did consider just leaving it, but my better knitting angels took over, and out it came again. That time I ended up tinking back a little further than I'd intended, since I had some trouble tinking the cables without screwing them up. Honestly, there wasn't even any whiskey involved in all this.
I'm now making forward progress, at least for the moment. The Major has finished the bottom cable, and has picked up all those stitches along one edge for the hem. I'm hoping to get that far this weekend, which I have OFF from my new job! Have a good one, all of you!