We found some other fun things in Dublin besides Guinness. Here I am, checking out the lunch options.
And then there was dinner: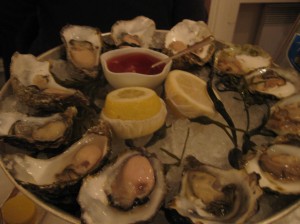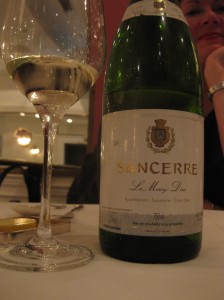 In case you think we've done nothing but eat and drink, that's not true. In between those things yesterday, we saw the National Gallery, the National History Museum, and last but not least, the Book of Kells and the Long Room Library at Trinity College. For a bibliophile, the Long Room was fabulous. We also got a nice nap in there somewhere.*
I'm posting from a tiny mini-Dell (named Minnie), with a tiny screen and somewhat sketchy internet access, so answering comments may be a bit limited while we're here. I also have to share Minnie with John, who seems to think he gets equal computer time. Thanks for all your comments nonetheless!
We leave Dublin today, headed west. Our first stop will be Kilkenny. On to the adventure of driving on the wrong side of the road!
*Not in the Long Room. It was pointed out to me that the way I wrote that sentence made it sound like we took a nap in the Long Room.