I actually got a comment today asking where the hell I was. She worded it a little more nicely, but that was the gist of it. I really didn't pack up the yarn stash and move to Siberia to knit in peace and quiet for the remainder of my days. Though I'd consider it if they'd let me take the yarn.
I've been here, knitting away, though once again I have little to show for it.
There are a few more inches on a lace shawl that looks like one of those crocheted market bags at the moment. It wasn't worth taking a photo. Look at this one (scroll down), it has a couple more rows than that now. And no, I really don't need a reminder of how slow I knit. There's been a little project creep around this house (meaning more than the usual three projects going at once), and that means nothing ever gets finished.
I spent most of last week working on this: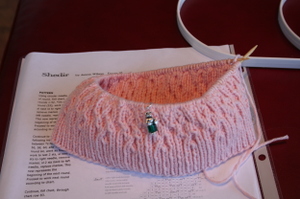 Yes, that would be Shedir, from Knitty. You can find the pattern here. I got this far, then compared it with the pattern photo, as something just didn't look right.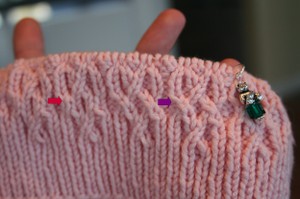 See the nice little crossed cables over there, marked by the little purple arrow, by the teddy bear*? Click on it to make it bigger so you can see the arrows. Now look at the non-crossed cables, over there on the left, by the red marker. I crossed the first two sets, then didn't cross them again all the way around the hat. Frak.
I looked at that for quite awhile. I even stupidly kept knitting, even after I noticed it. Then I realized that I would hate this project forevermore, and probably never finish it with those frakking uncrossed cables. You can probably guess what comes next.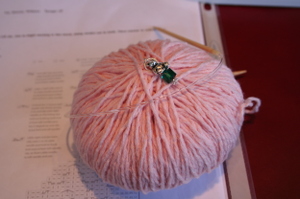 I did try to just rip it back to the ribbing, but because this yarn has a good bit of stretch to it, I couldn't get it back on the needles without a lot of yarn splitting and bad words, so out it came. I've started over, and am partway back to where I was up there in that first photo.
More pink stuff: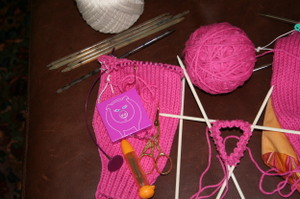 That would be the Mystery Riley project (for my soon-to-be-born niece, Riley, not the dog Riley). That's one sleeve, and the beginning of the second sleeve. The good thing about baby sweaters is that Sleeve Island is a much smaller, more intimate vacation destination. I finished the first one in an evening, and the other one will hopefully get done tonight. Last night's episode of Robin Hood is Tivo'd, and tonight there will be a new episode of Battlestar Galactica to satisfy my sci-fi jones. And we have three whole discs worth of the first season of Rome from Netflicks at the ready, in case we need any more television.
Last but not least, here's this week's bread recipe. The first photo is before it went in the oven.
And after: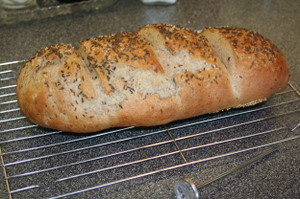 Here's the recipe, or rather, the ingredient list. Look at any general cookbook, or a bread machine recipe book, or my prior bread post, for how to put it together.
Lorette's Thursday Rye Bread
1 Tbl butter
1 Tbl sugar
1 Tsp salt
1 1/2 cup unbleached bread machine flour
1 1/2 cup rye flour
2 1/2 tsp yeast
1 cup water
1 Tbl Ground caraway seeds
1 1/2 Tbl gluten flour**
After the second rise, top with whole caraway seeds and salt, then slash and bake. I use a gourmet flake sea salt for the topping, and crush it a bit. Bake it at about 375 degrees, use an instant-read thermometer to tell when it's done (190-200 degrees in the center).
Next post: Yarn Shopping with friends! Loot!

*Yes, I have teddy bear stitch markers. You have a problem with that?

**Makes it rise better with less effort. If you want to knead the hell out of your bread, then leave it out. I like less guesswork with my cooking.