I'll re-explain the mechanics of the Yarn Focus Challenge first, as every time I post pictures of newly-acquired yarn, I get a comment asking how I can buy yarn when I'm on a yarn fast. The deal is this. Once a month, on one day of our own choosing, we get a free day to buy yarn. I didn't make the rules, people, I just follow them. Give me a free yarn-buying day, I'm going to take it. It's like a Get Out Of Jail Free card, which I saw on Rebecca's blog this morning. I stole it, with absolutely no sense of shame.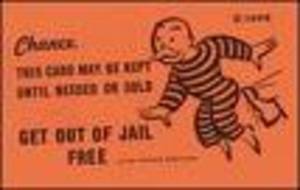 So Saturday I got to go shopping in the Big City* with two friends, Kris and Michelle. Michelle was in town for a meeting, and Kris and I drove up to help her shop. What were we supposed to do, let her bumble around trying to find yarn shops all on her own? What if she wandered into a bad yarn shop by mistake?
We picked her up at her hotel, which is when she surprised us with presents. Really, this was just way more than I expected, but it was very sweet of her. Here's mine: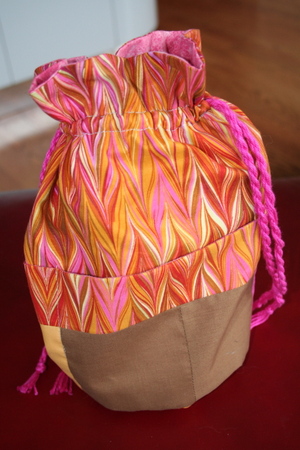 I'll bet you want to know what's in that little bag (which is just the most perfect project bag, by the way). Here you go.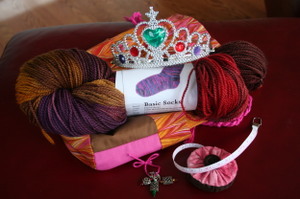 There's a lovely hank of Fleece Artist sock yarn in the most delicious color, some pretty stitch markers, and a fabric covered tape measure. A girl cannot possibly have too much sock yarn, stitch markers, or tape measures. Perfect!**
We started our yarn shopping downtown in Belltown, at So Much Yarn. This is a smaller shop, but with friendly staff and some nice things. From there it was off to The Fiber Gallery, in the Ballard area. For some reason I've never been to this shop before, but it is easily one of my favorite yarn shops anywhere. All three of us managed to unload some cash at both of these places.
An added bonus was getting to see Jessica, who works at the Fiber Gallery. She was teaching a sock class while we were there.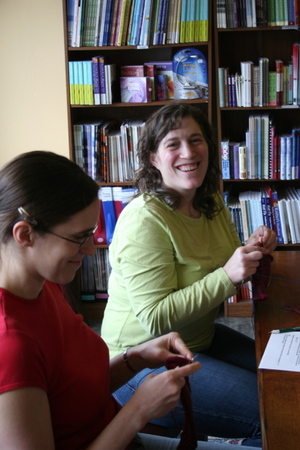 Then it was off to lunch at the 70-Something St. Alehouse, close to the Fiber Gallery. I've eaten there before, but it was absolutely packed due to the St. Patrick's Day festivities, and the slow service cut rather viciously into our shopping time. Plus I got food poisoning, and spent the evening rather close to our facilities at home (instead of going out to dinner with friends as I'd planned). If you happen to be the owner of the 70-Something St. Alehouse, and are thinking of contradicting my diagnosis of food poisoning, please try to remember that I, in fact, do have a medical degree, do in fact have a license to practice medicine, and have, in fact, seen far more cases of food poisoning than you have. You might want to check out the handwashing practices of your kitchen staff.
After lunch, and before the food poisoning set in, Kris and I really impressed Michelle with our navigating and map reading abilities. We managed to get from Ballard to the Weaving Works in the University District by way of going all the way back down through the city and up I-5 again. If you live around here, you know that's not the short way. We kept telling her that it was worth it, but I think she had her doubts until we walked in the door. There was this audible intake of breath from Michelle, followed by a whispered "Ohhhh". We all spent money there, too.
Here a couple of action shots from the day.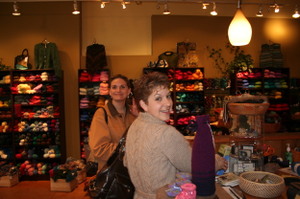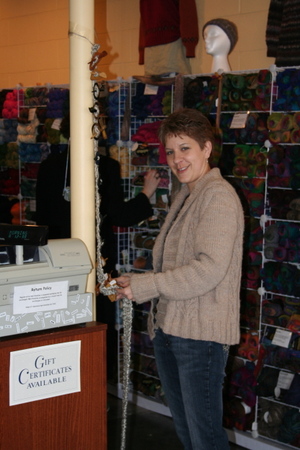 Michelle is wearing Starsky, which she just finished knitting.
After I got home I took photos of the loot (before the food poisoning set in).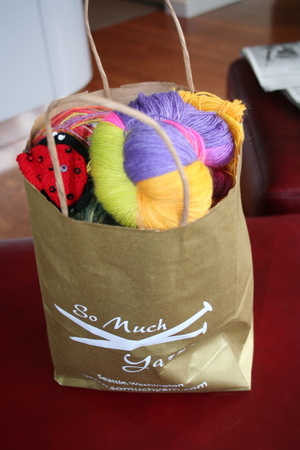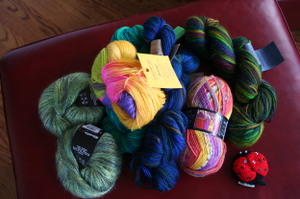 What's in that pile? There's a skein of Opal, one of Shaeffer Anne (that bright neon stuff on top), the blue is Mountain Colors Mountain Goat for hat and mittens, one of MC Bearfoot sock yarn, and a couple of skeins of shiny green Italian stuff (Ritratto) for a scarf. And a ladybug tape measure. And the bright green stuff you can barely see?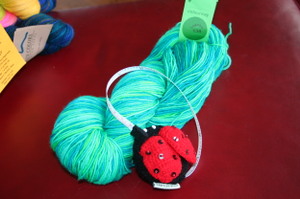 That's Jitterbug sock yarn. It's way greener than that. It's Green in the way that my pink Cotton Ease from the last post is Pink.
Oh and Kris and Michelle? Remember that silky stuff we were all drooling over at Weaving Works? The Colinette Tao? After I got home, I ordered enough for a little scarf. It was still within my free shopping day limit, and it would have been another month before I could have bought it. What if they ran out? It isn't here yet, obviously, but here's a link to their website. Yes, the Copperbeach is the one I got, and yes, it really is that exquisite.
All in all, a fun day, and totally worth a case of food poisoning, which is gone. The yarn is still here.
Next post: The Daily Bread, a new installment!
*Seattle
**No, she didn't buy me a new crown, that one is mine.