I've been trying to get some of these WIPs done before starting anything new. I worked on Evenstar yesterday and got a couple repeats done on the edging.
Today's project is the Dog Mittens. This is my oldest WIP, started back in 2008. Good grief. I finished the first mitten not too long ago, and had knit about an inch on the cuff of the second. I spent most of the morning today knitting off and on, and finally stopped to take a photo.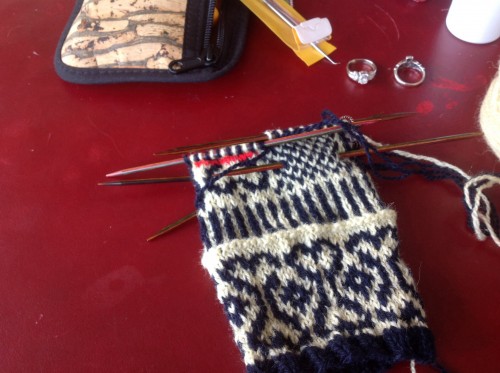 Pretty, eh? I'm all the way to the point of putting in the waste yarn bit where the thumb will go. I thought to myself (with some hubris-beware of the hubris, the knitting gods hate that) "I might even finish these this weekend!"
You can see where this is headed, right?
Then I had the bright idea to haul out the first mitten to compare.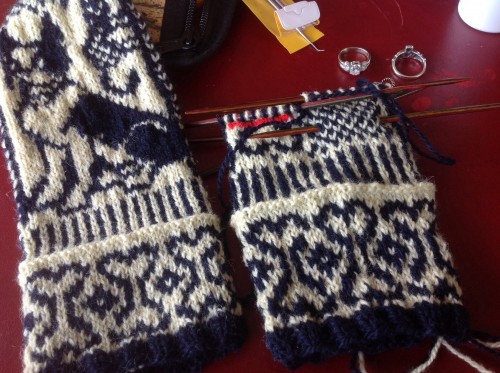 Click on that if you can't tell what's wrong. I had to dig back through my blog archives to figure this one out. On the first mitten, I held the white yarn in  my left hand and the dark blue yarn in my right. I apparently missed this point when I started the second mitten and switched them around. There is enough of a difference that it would bug me forever.
Damn damn damn. Out it came.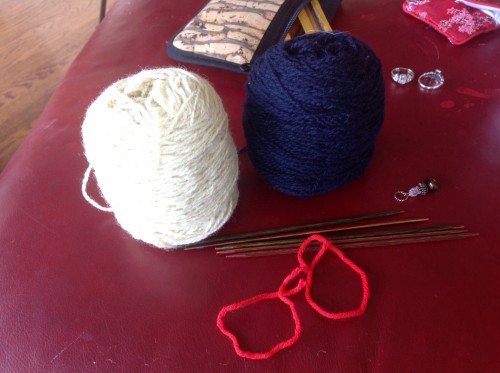 And here we go again. White on the left, dark blue on the right. As it should be.
Is it too early in the day for whisky?