Or,
 I Guess I Forgot To Blog
I know, I know. I just might have hit a record here for longest stretch without a blog post. I may not have been blogging but I HAVE been knitting. Here's some proof: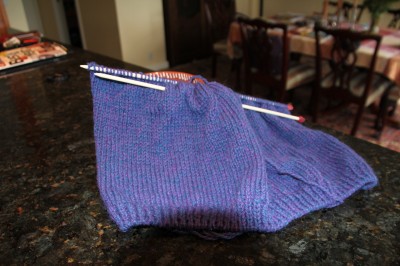 Old Friend, 2.0. There has been some progress since the last post. This is great mindless TV knitting.
Same socks. I'm still working on them, finally rounded the corner and heading for home. They really are that bright. And no, that's still the first of the pair. This is also great mindless TV knitting. (Or mindless work meeting knitting.)
Now here's something that hasn't seen the light of day in a very long while.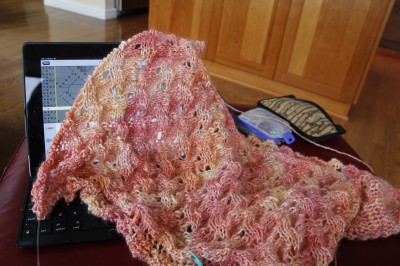 That's my Froot Loops Morning Glory stole. This is NOT mindless TV knitting. I hauled it out of the not-quite-forgotten pile and started working on it again today. It's very nearly half done. I haven't played with this in quite a while, since I had never even finished setting it up in Knit Companion on the iPad. I started this back in May of 2009, according to the blog that never lies. Who knows when I worked on it last*, but it hasn't been since I put Knit Companion on the iPad, that's certain. I finished setting it up this morning and discovered that this is MUCH easier with the KC app. Anne Hanson, the designer, writes up a very clear pattern, but this is a relatively fidgety pattern, especially in the biggest Morning Glory section, which is patterned lace on both sides, and the pattern repeat shifts to the right and left wildly. I might actually finish it now that I've got it set up in KC and can keep track of things.
And why am I working on Ancient Lace, when I have two perfectly good lace projects on the go already?
Here's something you don't see around here everyday: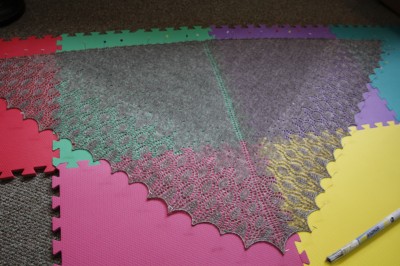 I couldn't wait for it to actually dry to take a decent photo. It's DONE! And it's LACE!
I'll do a proper post once it's dry and I can take a photo with some daylight, but that there is Seraphim, by Miriam Felton. I started that in January. Of THIS YEAR, people! Criminy. It only took me 9 months to knit something that's largely stocking stitch.
That's all for now. We might just be planning a vacation in the next few days, so I'll save that up as a surprise for the next post.
*Once again, the blog comes in handy. Here you go. That bit of industriousness apparently didn't last long.