Or, January Project Update
Or, I Hate Having The Flu
I could just stop there, right? Be careful what you wish for, is all I have to say. The past few weeks at work have been a bit busy, to say the least. The hospitals are not just full, we have hallways lined with sick people in extra beds sans rooms. It's been pretty demoralizing and exhausting for everybody; last week I saw veteran nurses in tears. At any rate, I finished my work week Thursday night, ready for a three day weekend, and had the thought "It would just be nice to have a few extra days off."
Ha. Friday morning I woke up with the crud which just got worse as the weekend went on. I finally broke down and went to our Urgent Care Sunday morning, and came away with the last two packages of anti-flu medicine, one for me to treat influenza*, and one for John to keep him from getting it. The pharmacy was also out of prescription cough syrup, which should tell you something. Our hospital was near to running out of influenza test kits last week, so we're down to diagnosing it the old fashioned way, by history and exam. What a concept.
Anyway, this "got" me those two extra days off I was wishing for. I haven't done much except sleep and wander around in a drug induced stupor. I'm hoping to be up to speed to go back to work tomorrow.
Enough whining. I have gotten some knitting done this weekend, though I've stuck to plain stocking stitch for the most part, since my brain isn't working very well. Here are my January goals for your reference:
Finish the body of my Green Jeans sweater
Finish the pair of socks on the needles (Pot 'o Gold socks)
And here's where I am.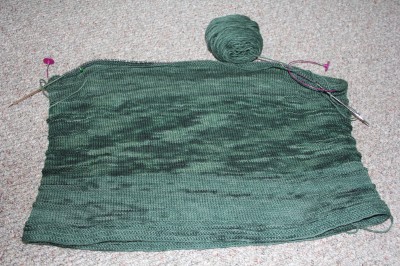 That's the Green Jeans sweater (AKA Corduroy). I've reached the split for the bodice part, and have started the upper back. This is actually pretty mindless knitting, with just a bit of garter striping for interest.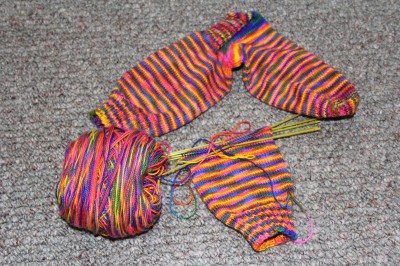 And those of course are the socks. One done, one almost half done.
I'm not sure I'll hit either of those goals by the end of the month, but we'll see. I'd be closer to getting there if I hadn't gotten distracted by that shiny shiny platinum yarn from the last post.
I'm off to take more drugs.
*And yes, I did get a flu shot. I hate to think what this would be like if I hadn't.