Whew! I finally finished something.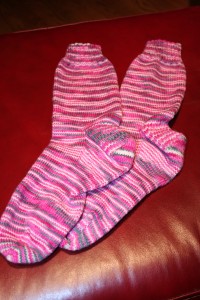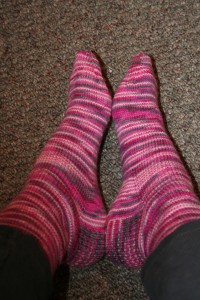 Project Details:
Started: April 30th, 2009 (hey, at least it was in the same calendar year!)
Finished: December 26th, 2009
Yarn: Zoe Shalimar Sock, color Peonies, purchased from Kris at Sonny & Shear
Needles: Signature dpns, size 2.25mm
For: Me
What I learned: Knitting plain socks is still endlessly amusing. And I love wearing plain socks in every color of the rainbow.
This yarn is quite nice. It's superwash merino, and I added a bit of pink Wooly Nylon when I knitted the heels and toes, to give it a little more durability. I tend to just wear through my socks at the bottom of the heels, though it's better if I wear them with real shoes, and not Birkenstocks. For some reason, the open clogs rub more on the sock. If you want to try the Wooly Nylon, here's where I got mine, though you can find it in fabric shops as well. I have it in a bunch of colors, though it's fine enough that even if it doesn't match perfectly, it just disappears. I just try to get in the same general color family and intensity.
I hope everyone's holiday was lovely. We are still having ours, with the last set of family arriving today for dinner and gift exchanging. Santa will probably be glad, he's had a busy week. I had the honor of working for the four-day Christmas weekend, and have to go in today as well, but then I have a couple of days off, and I do get the New Year's weekend off as well. Just as a public service announcement, remember to go buy your black eyed peas for the annual New Year's Day BEP cook-off. I wouldn't want you to get caught short without them!