First, I joined Rebakah's Yarn Focus Challenge again this year. That's what the newest ticker is all about up there. So far, so good, though Madrona is this weekend, so I'm betting that one of my "free" days gets used up.
In pink knitting, I'm still working on those pink STR socks. The last few months have been sort of hopeless on the knitting front around here. I've made it to my "weekly" knitting night maybe twice, and haven't started (or finished!) a project in ages. I made a bit of progress on these last night while catching up on Desperate Housewives and Battlestar Galactica.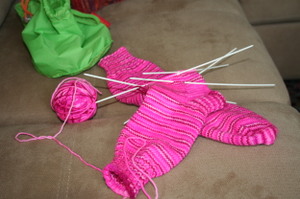 A few more episodes worth of knitting, is what I'd guess. What we need around here is a good bluegrass festival, with lots of knitting time. (Guess what's coming up, soon!)
And more pink: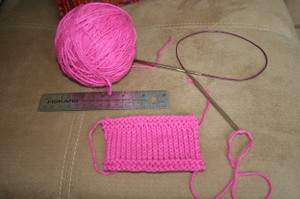 That's Cotton Ease, from the stash. It's a swatch, in case you hadn't guessed. I can't tell you what it's for, as it's for a baby-on-the-way*, and her mom occasionally reads the blog. All I have to say is that they better be right about it being a girl. And that color is pretty accurate. It really is that shade of pink.
Here's something I found on the camera that's most decidedly not pink.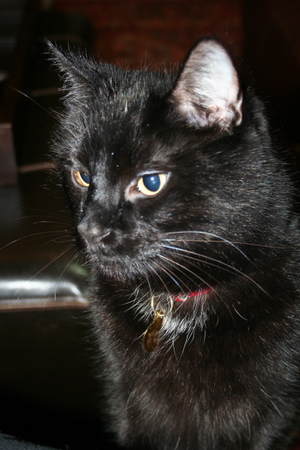 That's Will. Isn't he a handsome boy? Though I think he looks a little grumpy there, I must have woke him up for the photo.
Last but not least, my Monday Sky. I've missed Saturday Sky countless times, and usually don't think about it until I'm making the blog rounds and see everybody else's pictures. Yes, it really is that gloomy around here today.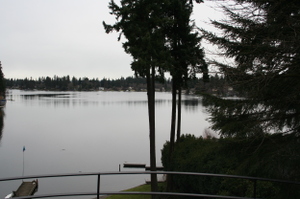 I prefer to think of that as five days early, not two days late.
*See previous post. This is the Mystery Knitting Project For Baby Riley. Hereafter known as MKPFBR. Angie, I hope you like Pepto Pink!