Well, three of them, anyway. I'm only taking photos this morning of the things I've been working on in the past few days. The rest of them can sit over there in their little bags and be quiet. Have you ever been taunted by your knitting projects?
Here's the first one.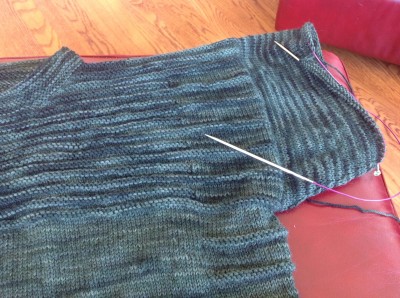 That's my Green Jeans sweater, a little blue today, apparently. We have no sun this morning, so photos were a bit challenging. As you can see, I've started the first sleeve. I have to tell you, I am not a big fan of this "sweater all in one piece" trend. Picking up the sleeves from the armhole and knitting towards the cuff is WAY more work in my opinion than just knitting the sleeve flat and sewing it in like a sensible person would do. On a positive note, I'm getting better at knitting with two circulars. Knitting this sucker on a short 16 inch circular lasted for about one row before I was ready to immolate the whole mess in the back yard.
Next up, the sock.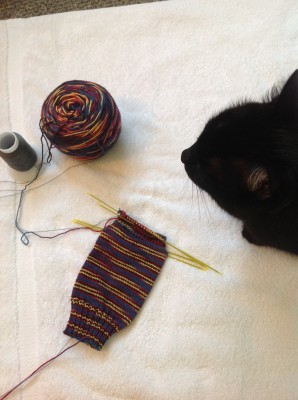 As you can see, Will is helping. This is Lorna's Laces "Live Long & Prosper" sock yarn. It's really more vivid than that photo shows. Again, no sun. Western Washington in July, what can I say. It's all the way up to 59 degrees so far this morning. Woo hoo!
Last but not least, the lace bit.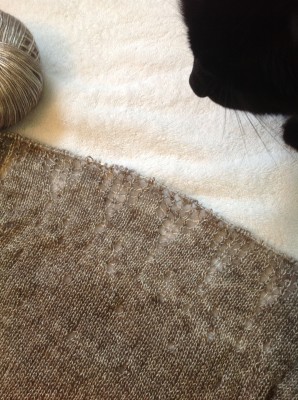 This is Seraphim, and I've finally gotten past the plain stocking stitch part into the lace section. Will was quite interested. I turned away to transfer the photos to my computer and he tried to make this his cat bed. Thankfully I rescued it before he could dig it to shreds.
So what about all those other projects I'm not showing you? According to Ravelry, I have 8 projects on the go, including those three. So I did what any sensible person (there I go, being sensible again) would do.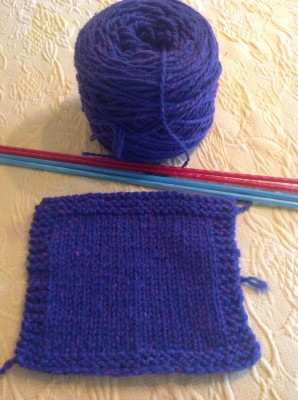 Over on the Peace Fleece Ravelry group, they are about to start a sweater KAL. I have Peace Fleece in enough colors to make a half a dozen sweaters, and was going to make one for myself. John got this really sad look and looked longingly at the Peace Fleece stash, so the plan changed. This one will be for him. The color is Violet Vyehchyeerom*. The pattern is the Old Friend Pullover, and he heartily approves.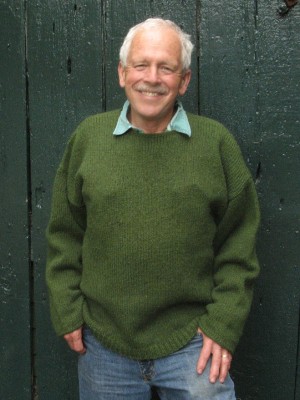 That's what it looks like on the owner of Peace Fleece. Imagine it in purple, and with John's head, and you've got it. It's the ultimate "guy" sweater, though I plan on making one for me as well. It's not like I don't have the yarn around here.
I'll leave you with one last photo. This is one John took earlier this week. Note that there was sunshine when he snapped this one.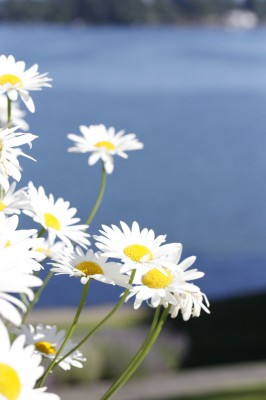 *No, I have no idea how to pronounce that. If any of you speak Russian, chime in here.