Two posts in one month! Don't anybody die of shock. For some inexplicable reason, I've had this whole week off, one of the side benefits of my very weird and erratic schedule. It's a good thing too. I worked Friday and felt fine. Saturday I woke up with 6 days off ahead of me, lots of plans of what I was going to do with them, and a yucky case of the creeping crud.
I've managed to get a little knitting done, a bit of reorganizing in my office, and a lot of reading. And coughing. And sniveling. Sheesh I make a terrible patient.
Enough of that. On with the Project Update. With all that reorganizing, I think I actually found all the knitting projects on the needles. This is an embarrassingly boring list, as some of the projects have been on it for years. Here goes.
Sweaters first: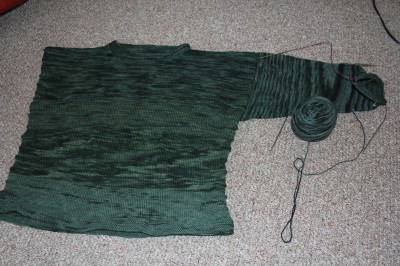 My Green Jeans Sweater, pattern is Corduroy, from A Fine Fleece. I am nearly done with one sleeve. According to Ravelry, I started this in May. That would be May 2012. I will finish this, yes I will.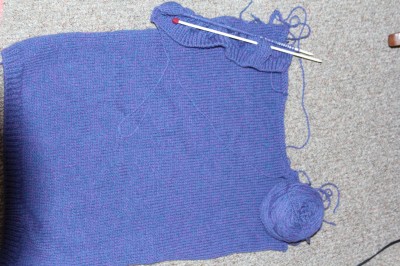 John's Old Friend sweater. Peace Fleece, plain drop shoulder, no shaping. Though I modified the neckline a bit. You can't really tell from that, but the big piece is the back, I changed the neck shaping and did short row shaping for the shoulders. The original has a lower neckline that seems silly in a hefty wool sweater. It's supposed to be warm, not leave your neck exposed. This one's more recent, I started this in August of THIS year.
Then, the shawls. Both of these are dinosaurs. At least they are pretty dinosaurs.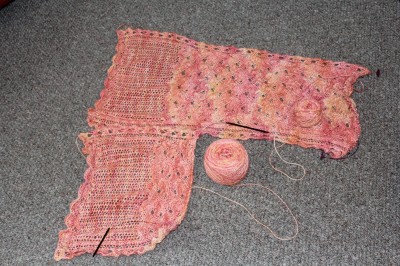 Froot Loops Morning Glory, from Anne Hanson. First half done, second half well on the way. This isn't difficult, though I do need to pay attention to the lace pattern. Vintage 2009, people. It's about time I finished this.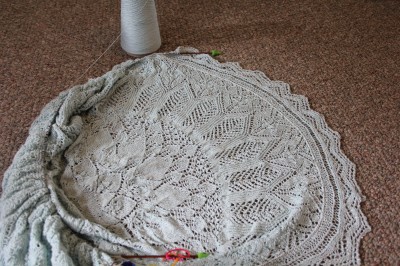 Evenstar. Click on that. It really is very pretty. I just need to freaking finish it, but that beaded border is a bazillion repeats of the same really boring 20 rows, with the added fun of BEADS so I have to pay attention. Vintage 2010.
Then the little things. Sock, of course. I don't think I ever did do a proper Finished Project post on the last sock. Lorna's Laces yarn, Live Long and Prosper. Finished in October on vacation. Oh here they are.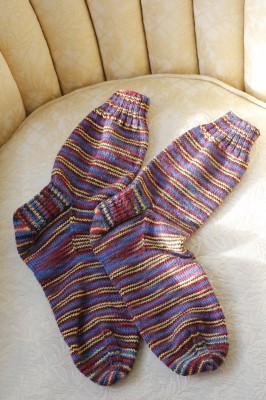 Same old pattern, 72 stitch sock, size 2mm needles. These were knit on Pony Pearl double points.
Here are the new ones, started the same day those were finished.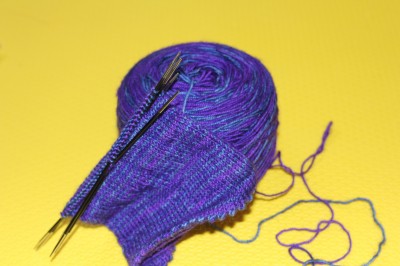 They really are exactly that color. The yarn is Flying Sock, 100% Blue Face Leicester, color is Deep Ocean. Size 2.0 needles, same pattern as always, this time with a picot top. These are close enough to BLUE that I wanted them a bit girly so they didn't disappear out of my sock drawer. You know how John is about BLUE. Those are Knitter's Pride Karbonz needles (2mm), by the way. This is the first time I've used them, and I really like them. I have a set of the Blackthorn needles, which are similar except these have the shiny wickedly sharp tips.
Then for the semi-official UFOs.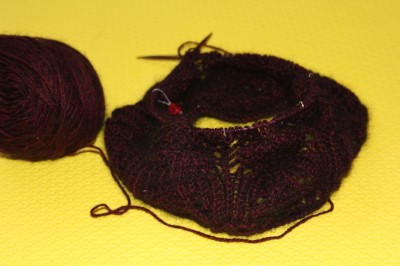 This is the Pretty Thing cowl, in a deep reddish brown mink yarn. I need to pull this out of hibernation and finish it now that it's cold outside. I might actually wear it. I have no idea why this became a UFO, since the yarn is divinely soft. The 16 inch short circular needles might be part of it. I really hate them. This is at least from this past year. I bought the yarn at Madrona in February of this year.
Last but not least: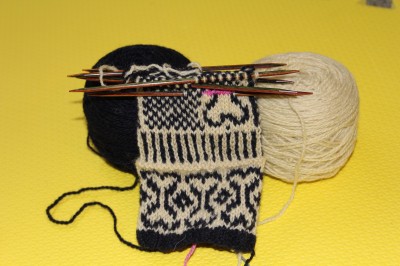 Dog mittens! I know why I haven't finished these. These were started for John, but they are way too small for him. They might even be too small for me. I suppose I should finish them and make them somebody's Christmas present. Or maybe they would block a bit bigger for me.
That's it. I'm not counting the big box of a billion tiny balls of sock yarn that at one time was going to be a Beekeeper's Quilt. That is one of those "what the hell was I thinking" projects. I haven't given up on it entirely, but I'm not taking it out to take a photo of it either. Those nearly forgotten projects take every opportunity to taunt you if you let them.
What about you? How many projects do you all have on the needles?