No, it's not what you think. I head down the rabbit hole to work tomorrow morning, so I may or may not get a chance to post in my new blog for a week. So here's a quickie post.
Did I mention that I have a new blog??
Oh, right, I did.
Never mind.
Here are a couple of photos to tide you over. I finished a project, but I'm not going to post details until it's been mailed off. So you get cooking and spinning. You'll have to make do.
We made gumbo this weekend. This might not sound all that exciting, but it's sort of a major project around here. We use Crescent Dragonwagon's* recipe for gumbo, which involves a whole lot of chopping and cooking, but results in lots of storage containers of gumbo base in the freezer. When we want gumbo, we thaw out a container of the base, then add the last few ingredients.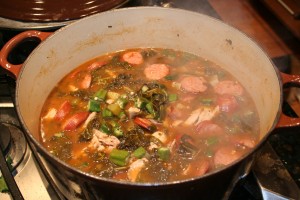 And the finished plates:
Then there's the spinning. I've spun up a whole bunch of Abby's Batts that I scored a month or so ago. This is a silk/merino/sparkle blend. I've finally got the whole bunch of fluff spun, and now I'm plying it. Here you go.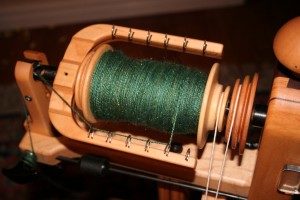 That's roughly a light fingering weight, 2 ply. I have about six or seven ounces of this, but this is the first bobbin of plied stuff, so I don't know the yardage yet. I think this will make a nice shawl. What do you think?
Down the rabbit hole I go. I'll be back in a week.
*Yes, that's her name. If you don't have her cookbooks, you are really missing out. Go, now, and buy them. I highly recommend her Soup & Bread cookbook just for the gumbo and cornbread recipes, and The Passionate Vegetarian is one of my all time favorites.