I'm blogging this from Arizona, where it hasn't rained in, oh, at least 24 hours. The sun is shining, I haven't had a wool sweater on since I got here, and there has been plenty of bourbon consumed. I suppose I might get bored living someplace where the weather stayed the same all the time, but at least it wouldn't be rain all the time.
I joined TBR (To Be Read) as part of my NY resolution to read more. Here's my list.
TBR List for 2007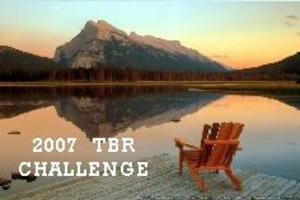 Madison Smartt Bell, All Souls' Rising
Dorothy Dunnett, Niccolo Rising
Louise Erdrich, The Master Butchers Singing Club
Margaret Atwood, The Robber Bride
A. S Byatt, Babel Tower
Carolyn Chute, Merry Men
Sebastian Faulks, Birdsong
Guy Gavriel Kay, Sailing To Sarantium
Peter Matthiessen, Lost Man's River
Nuala O'Faolain, My Dream Of You
Joyce Carol Oates, The Falls
Orhan Pamuk, Snow
12 books, 12 months. These were chosen randomly from my shelves. I would note that a few of them are "firsts" in their series (the Bell, Dunnett, and Kay books), so I may end up sidetracked. Whatever. (Deb, note that Niccolo made the list!)
And,
An Alternate List, in case of fast reading, or if I despise a book and can't finish it.
Italo Calvino, If on a winter's night a traveler
John Updike, In the Beauty Of The Lilies
Ahdaf Soueif, The Map Of Love
Jane Smiley, Moo
John Cowper Powy, A Glastonbury Romance
Sarah Orne Jewett, The Country Of the Pointed Firs
Wallace Stegner, All The Little Live Things
If you want to join, there's a Yahoo group. The rules are that you choose 12 books that have been hanging around your house collecting dust, and read them over 12 months. There are prizes along the way for those who keep up. They have to be new-to-you books, not re-reads. I think I can find 12 from that list that will work for me in the coming year.
Oh, and you have to sign up by the end of this month, or you're out of luck.
And now it's cocktail hour. Until next time…