Well, tomorrow, anyway. It's finally here! Jennifer, AKA Major Knitter, and I are starting the big Faery Ring KAL November 1st! Of course, in true Knitting Doctor fashion, I'm not even close to ready. She's been over there, madly finishing up WIP's, and I think she's even done a swatch. Me, not so much.
I did get all the sewing done on John's True Blue sweater. I've picked up the neckband stitches, and plan on finishing that hopefully tonight. Does anybody else hate knitting neckbands as much as I do? I can do mattress stitch seams till the cows come home, but if I could pay somebody to finish the neck for me, I'd be there.
John says "thanks!" for the birthday wishes, by the way. We went out to celebrate last night. Our local performing arts company is trying something new this year, and is showing a series of old movies. They chose three Cary Grant screwball comedies for this coming season, and last night was Arsenic and Old Lace. I've seen it on the small screen, but it was truly hilarious on the big screen in a theater full of people. We went out for a nice steak dinner afterwards. It was a nice way to celebrate the big day!
Here's the yarn, with the first hank all wound up and ready to go. It really is that red!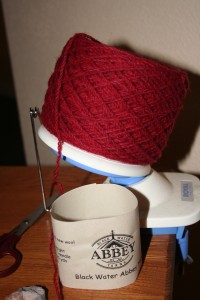 I'm off to finish that neckband.