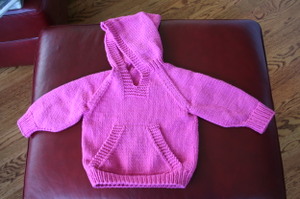 Project Specs:
Pattern: Wonderful Wallaby, by Cottage Creations
Yarn: Cotton Ease, in Pepto Pink (not the real color name!)
For: Baby Riley, my new great-niece (or is it grand-niece?)
Started: February 2007
Finished: March 29, 2007
Needles: KnitPicks Options circulars, and Swallow dpns, in size 4mm for the cuffs/bottom rib, and size 5mm for the rest.
Modifications: None. If I make this again, I'd do something
differently with the split at the bottom of the v-neck. There's a loose
stitch there that gaps, and I think there are ways to knit that stitch
so it doesn't do that. I saw a version of this on Brooke's blog with a cable up each side of the pouch and around the hood. That would be fun to do.