It's the same damned excuse. Work work work. I just fell out of a 9 day work stretch rabbit hole, and go back tomorrow for another 5 day siege. Then I get a little bit of a breather. So I'll get a quick post in before I put my head back down.
There's been hardly any knitting around here for the past couple of weeks. As a sample of how things went, I got home late one night after a long day at work. While my lovely husband made me dinner, I sat in the kitchen and said, "All I want from life right now is to be able to sit here and knit ONE danged row."
I stupidly picked up that Langsjal Jóhönnu stole, and started across the row. About 7/8 of the way across the row, I ran into a mistake I'd made in the prior row. I messed around with it a bit, trying to fix the row below without going all the way back, then realized I was brain dead and would probably frak the whole thing up if I tried that. So I painfully unknit all the way back over the mostly done row, then the prior row, fixed it, then started forward again. I eventually finished that one row. Be careful what you wish for.
Speaking of wishing for things, last week was my birthday. How lame is that, failing to blog your own birthday? I even got to work late, as Friday, the big day, was my late shift day. 7AM to 9:30PM. Do I know how to have fun or what? I got a great present from my lovely husband though, the same one who fixes me dinner and makes sure I have plenty of wine and bourbon always available. I drive an oldish VW Beetle with the original radio/CD player. I also have an Ipod loaded with over 10,000 songs. My guy bought me a new car stereo, one that has a connector wired through the glove box for my Ipod. It is very cool. I find myself just wanting to drive around so I can listen to it.
OK, I promised you a finished knitting project a post or so ago. While we were in Idaho, we went to the yarn shop in Ketchum, and I <<cough, cough>> bought a few <<cough cough>> things. One of those things was a lovely little single skein of Synchronicity by Alchemy Yarns. This stuff is just heavenly. I'd like a whole tub full of it so I could roll around in it all day. Unfortunately, it's also spendy enough that I decided to spring for only one skein. So I made little fingerless mitts out of it. I sort of made up the pattern, as I was in a cabin in Idaho, and couldn't resist casting on immediately when I got back from the store. Some day if I can decipher my notes, I might post it. For now, here are the mitts.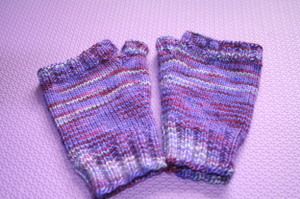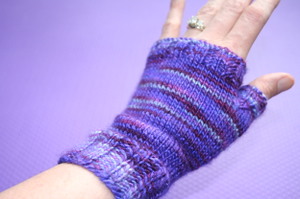 It actually was easy to come up with the pattern, except when I got to the thumb. The first attempt looked horrible. Then I remembered, I just learned how to do an underarm gusset with the gansey class. I dragged out my trusty knitting notebook and a pencil, and in a few moments had it figured out. Yeah, yeah, I know, mittens are easy. This is just a basic mitten pattern, find one in a book and just work till you get to your knuckles and do more ribbing. But I've never done mittens or gloves, and I'm pretty proud of myself for figuring out how to do them all by myself.
Project Specifications:
Pattern: I made it up.
Yarn: Alchemy Synchronicity, in the color Resolution. It's a silk/merino blend, and the photos just do not do this yarn justice. I used almost a whole skein for these, with just enough left over to let Lucy have fun with. (What? You don't let your cats play with silk yarn?)
For: Me
Started: In September, when I was in Idaho.
Finished: Four days later. It wouldn't have taken so long if I'd had any clue what I was doing.
Needles: Metal double points that I had with me for the gansey class. I think they were 3.75 mm.
What I learned: I learned to trust my knitting instincts and just "let the force be with me". It's only yarn. Pattern, schmattern, who needs a pattern?
I'm off to try to catch up with NetNewsWire. I'm 513 posts behind in my knit-blog reading. Have a great weekend everybody!