I don't have any impressive knitting photos to show today, so you get spinning photos instead. My True Blood Faery sweater is coming along, though slowly. I've finished the bottom hem cable, and am almost done with the stocking stitch hem. Then I get to pick up another gazillion stitches on the opposite edge of the cable, and knitting up the body will proceed. Just imagine what it looks like, OK?
I've been spinning quite a bit lately, and have several projects going. The wheel project is a whack of golden yellow Cormo that I bought on Etsy. I have one bobbin full as of yesterday.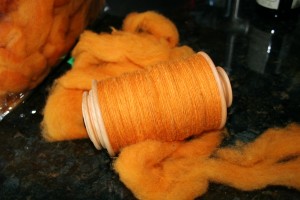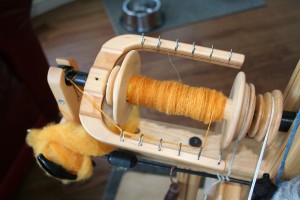 This stuff is really fun to spin. It's definitely different than what I've been working with, which is what makes spinning so much fun. Every fiber is different, and I'm having a blast learning different techniques to get the result I want. This will be approximately fingering weight once it's plied. It's dreamy-soft. Click on those pictures to embiggen.
Then there are the spindles. I have three nice spindles, as well as the "student" boat anchor that I started with. That will be a sturdy spindle for plying heavier yarns, I suspect, but I really like my other spindles, and have a project going on each. Here's what's spinning on the Cascade Spindle Company St. Helens: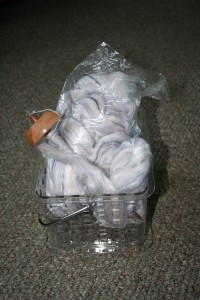 This is Ashland Bay merino/silk blend (70/30), purchased from Paradise Fibers, in the color Lilac. You can get yours here. They have lots of pretty colors available. This is spinning up into a silvery grey-lilac fiber, and will probably be a light fingering or heavy lace when I'm done with it, but we'll see.
I managed to get the spindle filled this morning to the point where it was getting a little weird and wobbly, so figured it was time to wind off. I've been dithering around, trying to figure out the best way to deal with this, and with the help of Fleegle and Ravelry, came up with this method. She posted these boxes on her blog a few weeks ago, and I went online and bought one for each spindle. These are quite clever spinning gadgets, even though they are made for the purpose of shower caddies. They are just the right size to corral a spindle and fiber, with a neat carrying handle. And when it comes time to wind off, it works as a Lazy Kate.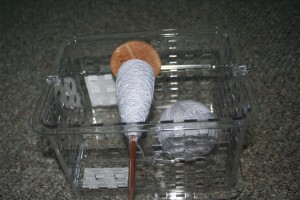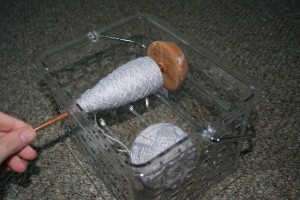 If you had two spindles full, you could just ply directly from this either onto a third spindle, or a wheel. I've tried winding directly into a ball, but the mess in the middle was a bit spectacular. Thus, the suggestion I found on one of the forums on Ravelry to use a tennis ball as the center. I just bought a pack of new tennis balls*, and wound from the spindle directly onto that. Once I have two tennis balls worth, I can ply it into yarn. Clever, eh? I got mine from Amazon, though it looks like the spinners have bought them out. If you google Zia boxes, you'll get other online vendors. These are the small size.
Fleegle slides her cops off the spindle onto straws, then does her plying from those. I like having the singles wound firmly into a plying ball, as it tensions the fiber nicely so I don't get so many of those squiggly corkscrews in my finished yarn. I suppose as I get better at plying, her method might be faster.
———————————————————————————————————————————————
Thank you all for the thoughts and prayers for the four murdered police officers from Lakewood. It's been sort of a difficult week around here for the community, but the outpouring of support for the families involved, and for the police department, has been amazing. There is a formal memorial service at the Tacoma Dome next week, though I doubt we'll even try to get there. Most of the available spots are going to be reserved for regional law enforcement folks to come pay their respects, which is as it should be. Keep them all in your thoughts; they have an incredibly difficult job.
I'm off to enjoy the sunny, if cold, day.
*John, being ever frugal, suggested that we have plenty of tennis balls around here already, and did I really need to buy new ones? I reminded him that our tennis balls are dog toys, and slathered in dog spit. Thanks, I'll splurge on new ones, dear.